Saturday, January 04, 2014
Last year I really struggled with staying motivated to exercise. I am going to change that for 2014. My solution... I decided to buy a good pair of shoes. This in itself was a little bit of a struggle for me just because I am so (as my mother-in-law so nicely puts it) frugal. My husband will just call me cheap, but whatever.
Last night I went to Gander Mountain with my husband because he wanted to get some new jigs for his ice fishing trip today. I decided to look at the shoes there and found some lovely New Balance running shoes marked down to $27.49 from $109.99. I was a little disappointed when all of the size 8 and 8 1/2 were sold out. My optimistic self thought I guess I could try the 7 1/2, but normally I can only dream of fitting into a 7 1/2 shoe, but to my delight they fit...like a glove!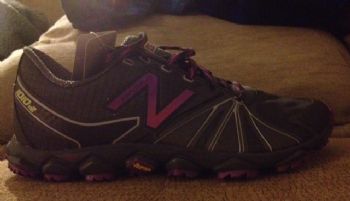 So now I have my new beautiful shoes that I will only use for working out. I am one of those people that does not like to let things go to waste. That's one of the reasons that I'm here in the first place. That should be enough motivation to get off my lazy butt and get to work!