Friday, January 03, 2014
I posted a blog the other day about running my first half-marathon this April. Well, I am now signed up for TWO. How'd that happen?!?!

My husband did the Detroit Free Press Marathon last year and was wanting to do it again this year. He said this time he wasn't sure if he wanted to take the kids, so I said "Maybe I'll do the half then." Later, he was looking up pricing and saw that the fees were much cheaper to sign up this week than to do it later (the cost goes up the closer you get to the race). For the cost of both us to run (if we signed up now) was almost the cost of just him if he waited. So.... He signed us up. Am I nervous? Yep, a little. Am I excited? Sure. I have feelings of "Shouldn't I finish my first half before signing up for a second?" But then I remember what this year is about. Growing stronger. Pushing myself. Testing my limits. It it just reminds me that 2014 really IS going to be the best year yet!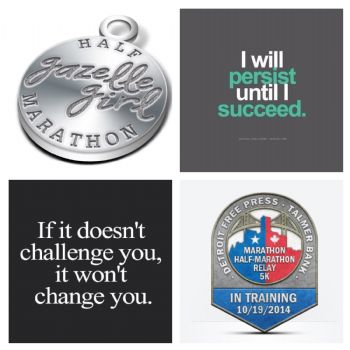 (Some "medal motivation" for me

)