When I started my (third) journey with Spark People in March of 2012, I was looking for a change. I was looking to go from an often sad, morbidly obese girl to a happier, healthier version of myself. But when you are looking at big changes, it can be completely overwhelming. I chose baby steps, and started with getting in more water, and learning to track my food. I wasn't worried if the calories were in range or not, I just got in the habit of tracking. As time went on I worked on staying in my calorie range and exercising. What I didn't realize as I was forming these new habits was that a new me was emerging, and the old me was starting to be left behind.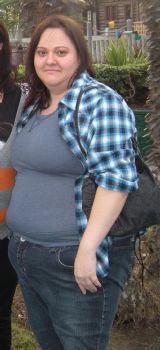 Now don't get me wrong, she didn't fully go away (and I don't think that she ever will), but the new me was so powerful as I continued to lose weight and get healthier she just stood in the shadows and watched. I think secretly she was patient because she knew that the "new girl" had no chance of sticking around. I mean why would she? That new girl had shown her face many many times but never for more than a couple months at a time. She'd show up with a great attitude, determination... she was really going to lose the weight this time... but it never lasted.
But this time was different.. this girl understood that in order to be successful in weight loss (and keep it that way), she couldn't rely on some fad diet. She also figured out that she would have to give up her old habits permanently. That meant no more sitting on the couch all day everyday, no more trips to the drive thru multiple times a day... those habits needed to be a thing of the past.
So with time, determination, and weight loss, the "new girl" proved she was here to stay.
(reached Onederland in July of 2013)
There was struggles of course, but nothing this "new girl" couldn't handle. She would have weeks where she didn't lose any weight or even gained, but she kept going. There were plateaus and they were frustrating but she pressed onward. Holiday Time of 2012 was a challenge, but she still maintained within a 5 pound range. The world was mostly

's and

's until that fateful day, Halloween 2013.

I really believed the old me was long gone, but I guess she sensed my weakness and she took that opportunity to pounce. I won't rehash all of my struggles over the past two months because I've talked about them way too much as it is. The short version is I ate everything, went back to all the "old" habits and regained 11 pounds. EEK! But you know what I realized today...
The "old me" that snuck back in these past couple months really isn't the "old me" at all. That person is almost a complete stranger to me now. When I look at pictures of her, I don't even recognize her. When I think of how she used to eat on a daily basis, it makes my poor tummy hurt. Don't get me wrong, deep down she was a great girl, but she didn't realize it at the time. While I have learned a lot from her and will cherish that deeply, I have no desire to be "her" again.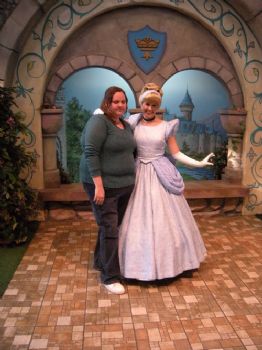 So even though I feel a little overwhelmed getting back on track, and feeling like this might be impossible, I now realize that's not true. I am not starting from square one. I am not 272 pounds, and I am not still trying to figure out how I should go about losing this weight. I know how to lose the weight, I know what I need to do and I will get back to it. You could even say that the NEW-old-me is the TRUE ME. That person is the one who tracks all of her food, makes good choices (most of the time), walks daily, gets in extra exercise when she can, drinks her water, and loses weight. She feels proud of herself and is happy with what she has accomplished and with life in general. That is the girl I really am, that happy, healthy version of myself and the "stranger" can stay in the shadows and watch from the sidelines. She brings a lot of good lessons and reminders with her, so I don't mind keeping in contact with her, but she needs to leave her unhealthy habits at the door when we do talk.