I have been struggling with my weight for years. I do good, then I have a set back. Since 2010, I have calculated that I have lost 93 pounds and gained 113. So, I am floating up and down the same 20 pounds or so. I don't want to do that anymore.
On New Years Eve, I ate really well! I decided to do the SFT from WW this time and it is working out well. I walked 4 miles, took my niece and nephew to a movie (didn't eat anything there) and even survived the NYE dinner. My friend was so sweet and made sure there were healthy foods there since she was a WW'er in the past too. I did great.
At about 12:30am in the morning on NYE, we couldn't get a cab back home. We waited for another hour or so, still nothing. So we walked. 3.49 miles in heels! We walked! Blisters later, we got home and we were all hungry. I had some grilled chicken and green beans. Came home, slept for 4 hours and got up to do a 5k that my other friend's WW leader had organized about 30 minutes from my house. I did the 5k despite the blisters and really enjoyed the time with her and her family. It was nice.
However.
They had a photographer there. And our pic ended up on FB. I have a huge llanta (tire) and was a bit embarrassed of this photo. I am cutting my friend out of the photo because I am not sure she wants to be floating around on my blog. But, this is why I don't like people to share my photos (or posts for that matter) without asking first. I was a bit upset and saw that some friends and family were "liking" my photo. What? Why?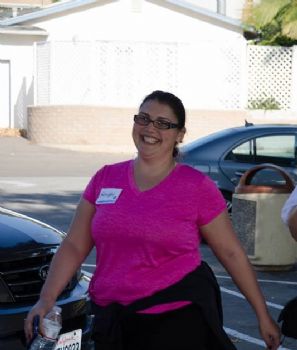 I was a bit confused. Then I thought about it. This is how I REALLY LOOK! This is the person they see everyday. That was a big pill to swallow! Oi! Really? That's me? It is. That's me. Major slap in the face... How could I not have realized this sooner? I think sometimes I convince myself that I am not THAT big. Whatever the heck that means. But, it was a realization I think I needed to have.
So, all of yesterday, I did well on program and racked up a total of 8.2 miles for the day. I slept like I have never slept before too! I think I needed it from being run down at Christmas. I thought about untagging myself. But, then it made me think. What am I trying to hide? This is who I have allowed myself to become. This body, rolls and all, I have built. Every extra serving of rice, every handful of M&M's have lead up to this. This is what I decided (consciously, by going off program and unconsciously by responding to emotions with food) to be. My body is a reflection of the choices I have made. Whether those choices were to eat french fries, not go to the gym or sit on the couch, those were choices. What that picture captured is the cumulative result of those choices.
It's time now to change. To become more mindful of what I choose to do or not do and to be more aware of what I do if it is not a conscious decision. I need to learn, understand and accept my emotions or those emotions will continue to show up on my body as extra weight.
Time to be the person I was intended to be. And to love that person in 2014!