A New Year Full of Change
Thursday, January 02, 2014
As I sit here this morning typing this blog, I have a little sandy colored ball of fur sleeping beside of me. When my Thor passed away I was heartbroken and couldnít imagine bringing another pet into my home too quickly. But things donít always go as planned.
I picked up Thorís remains on New Year's Eve and will very soon be returning him to his rightful place with Tommy. It was a sad time, but my boys are both at peace and together again.
As a pusher of pet adoption, I regularly go online and look at all the adoptable pets trying to match my human friends with a furry friend that I think would be perfect for them. Thatís what I was doing Sunday night when I came across a new little face that immediately jumped out at me. This little dog they called Daisy was nothing like my boy Thor. It described her as an Australian Cattle Dog mix that was white and tan and 4 to 5 months old. She was definitely not the type of dog I would pick for myself, but for some reason I kept going back to her picture and looking at those big brown eyes.
The next morning I found myself at the shelter with my daughter-in-law asking to meet Daisy. I was so surprised by what a petite little girl she is, quite the opposite of my big boy Thor. I hadnít planned to get another pet just yet, but soon found myself filling out an adoption application. They called me back that evening to say my application had been approved. Daisy (now Sahara) would be spayed and micro chipped the next morning and ready to go home with me at 5:00. We changed her name to Sahara because of our love for the desert and her sand colored fur. After picking her up, we (my son went with me) stopped at PetSmart to fit her with a new harness and leash and bought her several toys and puppy food. When we got home, she quickly laid claim to Thorís bed and gathered all of her new toys together on it. She is a very loveable little ball of energy with an endless supply of kisses. She can never replace my Thor, and is certainly nothing like him, but she has her own little unique personality with lots of love to give and I'm happy to have her.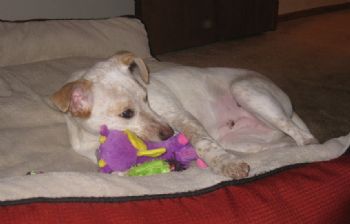 So just hours after bringing Sahara home, I brought in the New Year with my newest little family member resting comfortably beside me. As soon as she is completely healed from her surgery, we will be out on the hiking trails together. With the new addition to our family comes new hope and happiness for 2014.
Happy New Year my friends!