Wednesday, January 01, 2014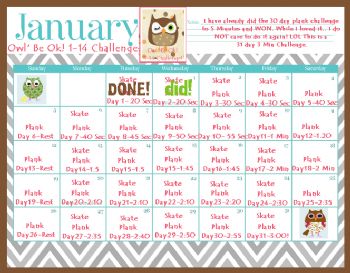 Todays workout and plank done! Hit the rink floor right after our 1-4 session and gave myself NO time or excuse to clean up, do books, register or anything. I had my skates on before the final customers left and hit the floor.
Did my plank. Loving these 20 second ones! LOL. I admit it makes it more motivating to do them knowing I just have 20 seconds.. and not 4 or 5 minutes! lol.. BUT in the plank defense, doing the challenge I did, I was amazed how doing small amts and leading up to 5 minutes..WORKS! Whne I first started and was doing 20-40 seconds I recall thinking.. 5 minutes of this?? what?? lol.
But I did it. Its amazing how I did it- and it had visable results. I will post the 5 mn challenge below. Have at it! it really is a fun challenge. I was proud when I reached 5 minutes! :)
Going to bed early-have Sweat N skate session at rink at 9am.. so no sleeping late! lol..
Kindle reading, some writing and bed by 11pm. Plus have ALOT of errands to run before the weekend sessions start.
Looking forward to NEXT Monday when we have a REAL day off :)
Oh and food good! Boo made me a killer egg omlet for brunch, had a protein starbucks shake for Breakfast.. and dinner? don't know yet... I do know I got a fresh braburn apple w/ peanutbutter waiting for me for snack at some point. :)
LOVE
Me