Happy 2014!!
Tuesday, December 31, 2013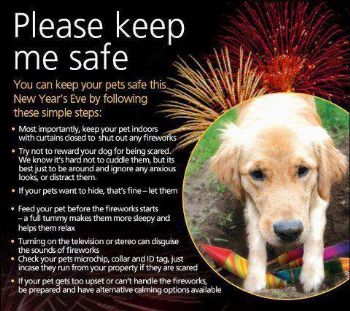 Wishing you each a most blessed 2014. And while we're having a fun evening, let's be sure to take good care of our precious pets who don't really understand all the festivities but are dear members of our families all the same.
* Most importantly, keep your pet indoors with curtains closed to shut out any fireworks.
* Try not to reward your dog for being scared. We know it's hard not to cuddle them, but its best just to be around and ignore any anxious looks or distract them.
* If your pets want to hide, that's fine, let them.
* Feed your pet before the fireworks starts - a full tummy makes them more sleepy and helps them relax.
* Turning on the television or stereo can disguise the sounds of fireworks.
* Check your pets microchip, collar and ID tag, just in case they run from your property if they are scared.
* If your pet gets too upset or can't handle the fireworks, be prepared and have alternative calming options available.
See you in the New Year!