Tuesday, December 31, 2013
A few years ago health problems shattered my world. I went from being able bodied, employed, and successful, to needing a walker to get around and unemployed. I felt worthless and began to suffer from chronic depression and gained over 100 pounds. I pretty much gave up on life. I became overwhelmed by all of the things that I could no longer do. To make a long story short, I began making small changes...very small changes, to get my life back on track.
Now, I no longer need a walker to get around, I'm employed, I'm in college studying Early Childhood Education and Development, and I'm able to do some of the things I enjoy again. I have lost weight, but not as much as I wanted too, but I've accomplished so much more. So for those who don't believe that small changes make a difference...I beg to differ.
This year instead of making resolutions, I decided to make a 5-year plan. I created a vision board entitled "Health & Happiness" that is filled with long and short term goals that I want to accomplish. It includes weight-loss and getting healthy, as well as personal life goals that I have.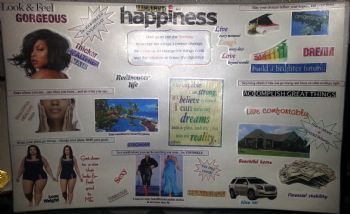 HAPPY NEW YEAR!!!