New Bird in Town
Monday, December 30, 2013
So I was walking downtown yesterday, when what to my wondering eyes should appear--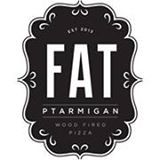 I just about keeled over laughing! Apparently the Wet Ptarmigan is not the only bird in town! There's a posh new restaurant named for Ptarmigans who eat too much pizza:
fatptarmigan.com/
https://www.facebook.com
/FatPtarmigan
Maybe someday when I'm feeling "peckish" I'll stop in and sample their wares, but meanwhile, the name of the place still makes me chuckle.