It was drizzling when we stopped in the car park near Balmoral. Undeterred we pulled on our woolly hats, gloves and scarves and headed off up a well made path.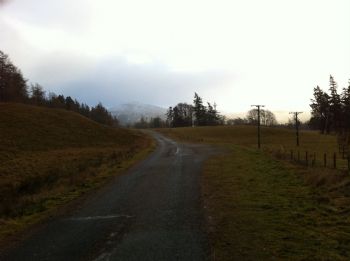 We walked past a very posh house, which had a rather flash sculpture in the garden. Personally I wouldn't fancy it on my back lawn, but each to his own!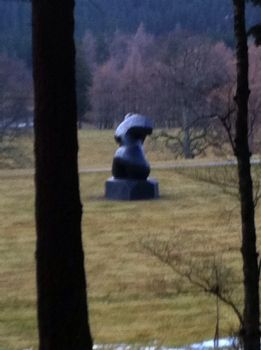 Then leaving that path we started to climb steadily through the trees. This path had a small brook running down it.
The path continued to wind gradually uphill, I was carefully sticking to the middle of the path out of the water, as I was only wearing trainers and they're old and not waterproof. To the sides of the path the snow was lying in the trees.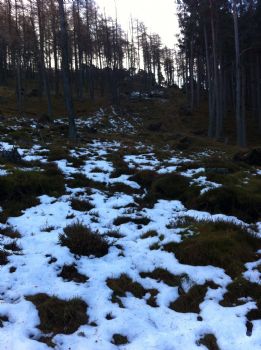 We carried on climbing, taking pauses to 'read the map' and take photos! We emerged through the tree line, and found the snow line, but the view behind us was magnificent.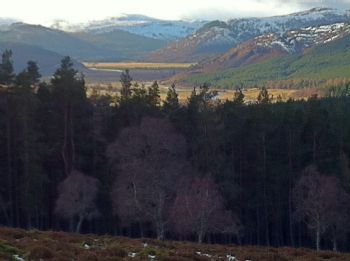 As the snow was lying on the path now, the clearest bit was in the stream. I decided I'd rather be wet than flat on my face, so I stepped into the stream. Wow that water was cold!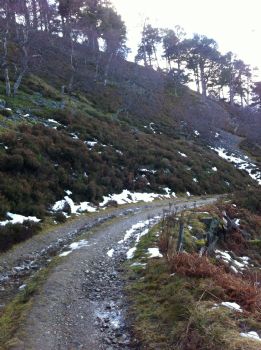 Eventually the trail was totally covered in snow. My old trainers were not only soaking, but didn't have much tread left, and I hate slipping and sliding. Fortunately my daughter and son in law are very patient and waited as I picked my way over the ice, disappearing up to my knees a couple of times.
We started to come downhill again, and dropped back below the snow line, but this is the view back up the track.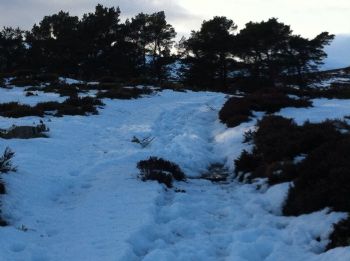 The view though was well worth getting wet for.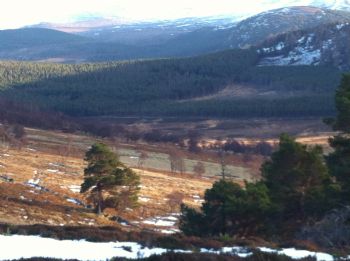 We started to work our way downhill.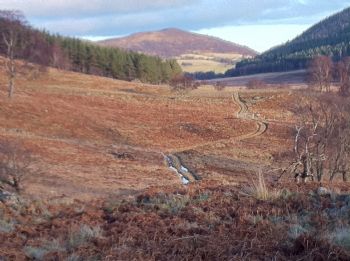 We were following a path with a stream running on our right, tumbling over the rocks. We were confident that we would soon find a bridge to cross over. Unfortunately we didn't!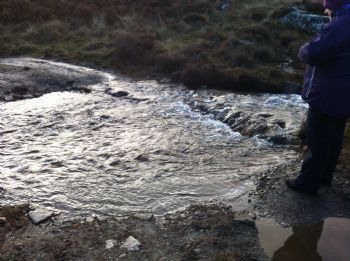 I was so pleased that my feet were already soaking wet! While the other two looked for an easy way across, I just forged through, as did my daughter. My son in law with his long legs found somewhere to stride across. It was very pretty from the other side.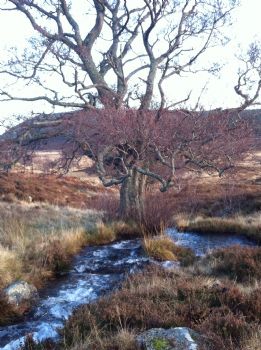 Congratulating ourselves on leaving the stream behind, we started to go downhill quite quickly, but the stream had other ideas. Going round a loop, it crossed the path again further down, and I had to get wet again! The scenery was still stunning however.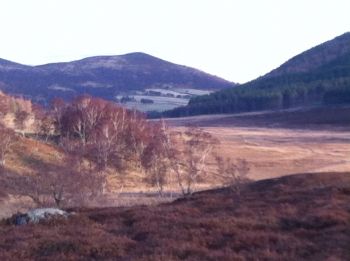 The third time I had to forge the stream, my poor daughter was mortified that her 'easy' walk had become so difficult, but really I wouldn't have missed it for anything, I was having enormous fun. As you can see I was really enjoying it!
After this, the last half a mile to the car park was an anti climax! I walked about 5 miles, and did 15,700 steps, and had a lovely day!