The year 2013 was--by far--the most chaotic and difficult year of my adult life. My father passed away very suddenly on February 11th, sending a shockwave through my life at a point when I was approaching a high point. What ensued after with dealing with his ice-cold wife was what made the ordeal nearly unbearable, as my brother and I watched helplessly as she erased his existence (without our consult) within a few months of his death. She sold, gave away, and and threw away almost all of his belongings without the involvement of my brother or me. She moved out of my dad's modest townhome into a lavish large house, a home far more extravagant than anything that would have interested my father despite his ability to afford it. She can now lead a lavish lifestyle thanks to my father leaving everything to her after my dad had disinherited my brother and I in his will. In the end, his wife had offered us a couple of things of my dad's that she had considered junk.
In the end, there was only one "thing" of his that I wanted, something that truly defined my father's soul--his guitar (see blog post "The Martin":
www.sparkpeople.com/mypa
ge_public_journal_individu
al.asp?blog_id=5386508
). His wife had given the guitar to her son (who had no relationship with my dad) within a few weeks of my dad's death. I had to practically beg to get it back. It took almost two months, but the guitar is now mine. It is truly a magnificent instrument and I am slowly learning to play. It is only over the past couple of months that I can open the guitar case without feeling pure bitterness. Instead, now I feel the only connection left to my father. Dealing with someone so icy and--well, horrible--has been the most traumatic experience of my life, after my older brother's death. Strumming the guitar is helping me heal, though.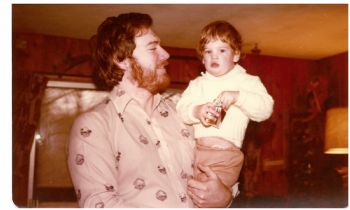 My dad and my older brother, Brian.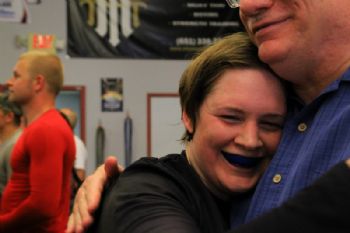 The last picture taken of my dad and me, after I won my first jiu jitsu tournament in November, 2012.
While--obviously--my father's death proved a horrible and sad ordeal, 2013 was also a year of immense growth for me. I had many accomplishments that I never would have thought possible. A lot of this was thanks to my father's inspiration. He was a man who passionately pursues his passions regardless of the costs (which, unfortunately, often included putting his kids on the back burner--I have recognized this as a reason for my reluctance to become a parent). Losing my dad meant losing the one family member who truly believed in everything about me. He was proud of me not just for my accomplishments, but for my "failed" pursuits" as well. Now I need to be that voice for myself.
My dad was very pro-education and always supported my academic endeavors regardless of their "practicality." I did not get a chance to tell him that I was returning to school to complete a degree in massage (I was going to tell him the next time I saw him). I did go ahead and continue with my plan to return to school, as I saw the potential to grow as a person. I enjoyed my first semester and earned straight A's. I look forward to growing as a massage therapist and have plans to start an animal massage business in the Twin Cities, a unique niche that has yet to be filled. I have started making contacts with some of my former veterinary colleagues to develop business relationships and the results have been positive thus far.
I have also progressed in my goals on becoming a personal trainer. In October, I was hired as a trainer at a community center. I have been enjoying becoming acquainted with the gym environment and doing basic training sessions with members. I will be taking the trainer exam on January 10th and plan to grow as a trainer from there.
This was also a big year for me as a writer. I have not been blogging much, however, I have made moves towards becoming a professional writer. I took many writing classes at The Loft Literary Center (a notable writing center in Minneapolis), and I feel fortunate to have such a resource available. My first for-real (paid!) article was published last month (link is here, but would need to pay to read; please message me if you'd like me to send it to you:
www.performancemenu.com/
articles/article.php?artic
le_ID=597
). I was very excited as I have always wanted to have an article published. I also started a novel earlier this year, and over the past few weeks have (finally!) developed a coherent story line not just for that book, but for a three-part series. The ultimate reason for writing the novels is not publication, but because I feel I need to tell the story (a story that has been developing since I was a little kid, actually). However, I will be pursuing publication upon completion.
I cannot write this blog without mentioning jiu jitsu. Jiu Jitsu has been my rock this year. My former gym and teammates proved a bit toxic after my dad's death and I switched gyms in March. My new teacher, Marcelo, was very patient over my first months training with him when I was sad and--frankly--lazy with training. He was very good at meeting me at my energy level and not pushing me beyond my capabilities that were hindered by my emotional state. However, when he saw me "waking up" a few months ago, he did start to push me. He gently encouraged me to compete again. I started training harder; he told me he knew I would win my competition. I won a gold medal when I competed in November. I was surprised at my win, but Marcelo was not. His calm demeanor and quiet guidance have been my rock this year. Now he has asked me to compete in a world championship competition in California early next year; I am honored. The answer was a resounding yes.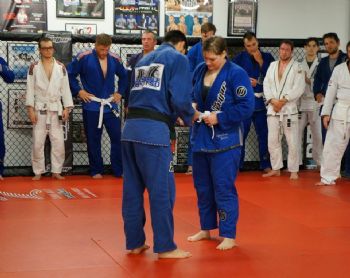 Marcelo awarding me another stripe in October.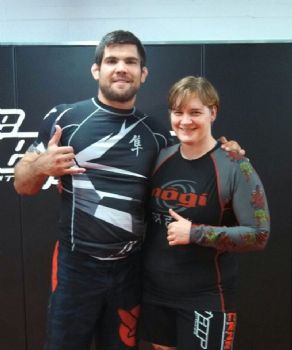 Me with Robert Drysdale, UFC fighter and our jiu jitsu school's founder, in October.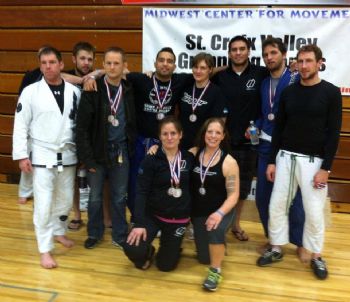 My amazing team after winning lots of medals at tournament in November. My teacher Marcelo is next to me in the back.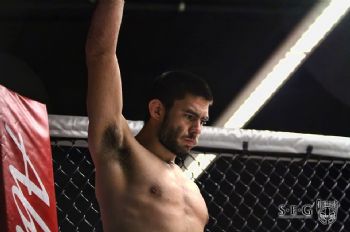 Marcelo after winning a professional fight.
I have basically maintained my weight this year. I consider this to be the biggest weight-related accomplishment of my life. After all the s**t I was dealing with between my dad's death, dealing with his horrid wife, starting school, financial difficulties, and feeling horribly lost, I could have easily buried myself in food and gained a great amount of weight. I have probably "lost" weight simply by not gaining it in the face of such major stressors. Screw the scale, it means less than ever. The fact that it stayed the same this year--despite all of the challenges--tells me exactly how much I have changed as a person.
I could have easily given up. But my father would not have wanted that, and I did not want that. I don't want to just live, but to thrive. It is not money or any crap that material things can bring that helped me to thrive, but my amazing group of friends, writing, and jiu jitsu that got me through. I have realized that all else is meaningless.
It is thanks to the changes that I have made through SparkPeople over the past three years that I have hope. Not just hope, but deep down KNOWING that the future will be better. Believe it or not, I consider myself to be a happy person, perhaps the happiest I have ever been. I have learned that happiness has nothing to do with what I have, or money or status. Happiness is pursuing a life that revolves around passions that define our very beings--and this is the year I have started carving the way. I am starting to get to know the REAL real me--and she is tough as nails and will stop at nothing.
So there it is, 2013 in review. Not the most eloquent blog post, but it is the truth. It is proof in front of my eyes that I survived. It is an affirmation that the next year will be better, because of the person I have been, the person I am, and the person I will become. We may not have control over what happens to us, but we have some control over our reactions. I truly believe that doing our best is the best we can do, even if it appears to be far from our vision. Some days I feel complete hope and confidence for the future, and some days I fall apart over nothing...but I am always doing my best. In the worst of times, we go into the dark shadows and face our true selves. It is during those times that we can collapse upon ourselves and give up...or see the tiny spark of hope, nurture it the best we can, and emerge from the flames anew.
Perhaps even better than ever.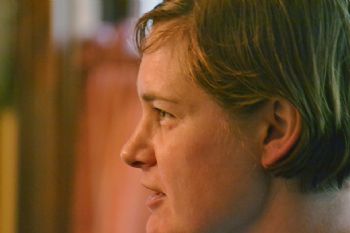 Candid shot my best friend took on Thanksgiving.
"May we do what we can each day, as impeccably as possible and then be at peace, for the results are out of our hands."
-Thich Nhat Hanh