Friday, December 27, 2013
Christmas Eve is anything but silent in our family...and I wouldn't want it any other way. This year there were 16 adults plus 2 children packed around my brother's banquet table on Christmas Eve. The table used to belong to my grandmother, and when we all get together for the holidays, I can't help but feel a strange mixture of nostalgia for Christmases past and wonder at the blessing of having a whole new generation of kids sitting there.
When I think about that first Christmas, I'm sure it wasn't very silent either, with a multitude of heavenly hosts singing, a donkey braying, sheep bleating, and a newborn baby crying!
This year I was feeling especially sentimental, since all the "children" except two are in their late teens or early twenties. The Nerf squirt guns and Tonka trucks have been replaced with itunes gift cards and graphic t-shirts. The excited squeals have turned into quiet "Thank you"s. (Well....except for the 4-year old, who squealed when she opened her Barbie furniture!) When did all the kids grow up?? My guess is that this will be the last Christmas Eve we are all together. My niece has accepted a job in Texas, one nephew is attending college in Ohio, and my son has decided to make Minnesota his permanent home. It feels like the end of an era. Perhaps that is why the evening felt even more special than in previous years.
Here is a picture of my children and me with my little niece on Christmas Eve.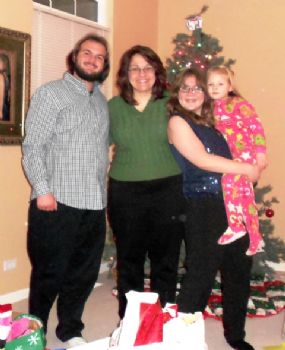 By the way, it took awhile, but I did manage to finally get my tree up! Here's the proof:
I hope all of you had a very Merry Christmas!