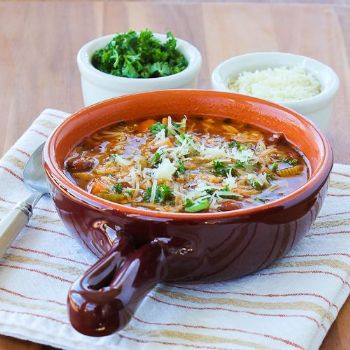 This soup would be Phase 2 or 3 for the South Beach Diet, due to the carrots and whole wheat orzo. If you substitute another pasta shape, it needs to be whole wheat pasta for South Beach.
- See more at: http://www.kalynskitchen.com/2
013/04/slow-cooker-vegetar
ian-pasta-e-fagioli-soup.h
tml?utm_source=buffer&utm_
campaign=Buffer&utm_conten
t=bufferd600e&utm_medium=f
acebook#sthash.H6VTzEOo.dpuf
Ingredients:
2 T olive oil
1 large onion, chopped
1 cup sliced celery
1/2 cup chopped carrots
1 T minced garlic
1 tsp. Italian Herb Blend (Use any brand of Italian seasoning that you have.)
2-3 tsp. Spike Seasoning (Or substitute any type of all-purpose seasoning blend that you like.)
1/2 tsp. ground fennel (probably optional, but it adds a lot of flavor.)
1/2 tsp. red pepper flakes
2 cans (15 oz.) red beans, rinsed and drained
3 cans (14 oz.) vegetable broth (or use homemade vegetable stock, which would be fantastic in this)
8 oz. can tomato sauce
salt and fresh ground black pepper to taste
several pieces Parmesan rind (optional, but does add wonderful flavor to the soup)
1/2 cup 100% Whole Wheat Orzo Pasta (could substitute any type of small whole wheat pasta, or use brown rice for gluten-free variation)
2 T good quality balsamic vinegar
freshly grated Parmesan cheese for serving
chopped fresh parsley for serving
Instructions:
Heat olive oil (either in the Ninja Cooker or in a pan on the stove) and saute the onions until they start to soften, about 4 minutes. Add the celery and carrots and cook 3-4 minutes more, then add the minced garlic, Italian Herb Blend, Spike Seasoning, ground fennel, and red pepper flakes and cook about a minute more. (Transfer to the slow cooker if you're using a pan on the stove.)
While the vegetables are cooking, put the beans in a colander placed in the sink and rinse well with cold water, until no more foam appears. When vegetables are done, add the drained beans, vegetable broth, tomato sauce, salt, and fresh ground black pepper to the slow cooker (along with the Parmesan rinds if you have some) and cook on high for 3-4 hours (or on low for 6-7 hours.)
Add the orzo (or other small pasta shape) and cook about 40 minutes more. Remove Parmesan rinds and stir in the balsamic vinegar. Serve soup hot, with freshly grated Parmesan and chopped fresh parsley to add at the table.
This freezes well, and I'm glad I have some in the freezer for the next chilly spring day!
- See more at: http://www.kalynskitchen.com/2
013/04/slow-cooker-vegetar
ian-pasta-e-fagioli-soup.h
tml?utm_source=buffer&utm_
campaign=Buffer&utm_conten
t=bufferd600e&utm_medium=f
acebook#sthash.H6VTzEOo.dpuf
www.kalynskitchen.com/20
13/04/slow-cooker-vegetari
an-pasta-e-fagioli-soup.ht
ml?utm_source=buffer&utm_c
ampaign=Buffer&utm_content
=bufferd600e&utm_medium=facebook