Friday, December 27, 2013
I showered yesterday which is an amazing accomplishment. Sometimes when I have bad stints in my depression I stop doing normal things. I can go weeks without cleaning my house, for instance. But I feel considerably better today after having gotten back on track with diet and exercise yesterday. The weigh in is tomorrow morning and I know I am still above goal weight, I just can't say how much. Maybe 2-3 lbs? Meh.
Yesterday's dinner was a "turkey" and spinach wrap.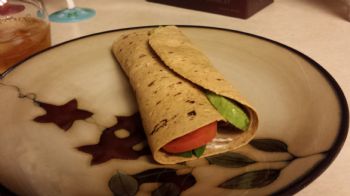 I'm seriously not able to concentrate on anything this week because of the anticipation of my new computer which is coming tomorrow. That's all I can think about these past few days. Stupid Best Buy making me wait 13 freaking days. It's like, could I drive to the warehouse myself? I have never been patient with anything. If I want it, I want it NOW. When I wanted a car I went and got one. When I wanted to lose weight, I opted for the fastest method. Too bad you can't do that with nice gaming computers. The store wouldn't carry something so specialized.