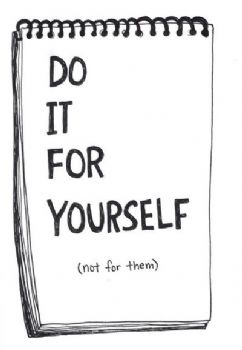 DO it FOR YOURSELF. It makes sense.
Nobody could imagine how miserable I was. Or how sick I felt, how weak my body was, how exhausted I felt. NOBODY could make me better OTHER THAN MYSELF. Only I could Fix myself. While people felt bad that I didn't or couldn't do things they could do, they went on and did things they enjoyed. I was missing out, life was passing me by as I sat feeling sickly in my chair.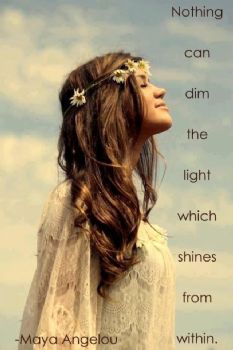 Love yourself a video said. It won't really matter to anyone else how you feel, you must do it for YOURSELF. Love yourself, REALLY LOVE YOURSELF enough to make a firm COMMITMENT to stick to your lifestyle change. Yes it will be hard, you will be tempted, but love yourself enough to stick to it. Only then will you feel the REWARDS of of eating right. Those words helped me to stick to my goals through the holidays. IT WAS AN Ah Ha moment.

The light bulb went on. When I feel challenged, tempted I keep thinking of those words. If I didn't love myself I would become sicker, weaker, end up in a wheelchair. No one else could do for me what I needed to do for myself. Loving Myself finally made sense. Loving myself means eating right for me. I KNEW I could and would do it.
Yesterday I made the most delicious Cranberry Grape, Ginger juice.

Oh, it tasted so delicious. I will have to make it again for an occasional treat. Hubby and I went to the Asian market where we purchased some fresh coconuts for drinking, some bitter melon, fresh turmeric, and lemon grass. For $1.00 they sell the freshest mung bean sprouts which I juice. It gives me energy and protein. I found a new herb which tastes like coriander. Yum. It is super easy to grow.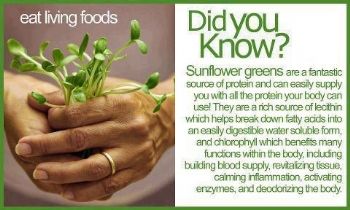 Today I am going to pot up a packet of turmeric roots.

The price has tripled since hubby and I started purchasing it. It's making such a big difference in my health that I want to grow it. It will stay on my window sill until it's warm enough to plant outside. The vegetable garden is going to get revamped. The morning glory and all it's splendor is going to have to move some where else. I love the sunshine shinning through the flowers and the hummingbirds buzzing them. I need the room to raise cucumbers for juicing and bitter melon plants. I am going to be growing foods to keep me healthy. I found some grow bags in a raised garden bed shape that I plan on ordering so I can add some raised beds for growing wheat grass outdoors in another location. They are inexpensive in comparison to the cost of wood to make a bed. Oh, I found a company that sells unusual herb plants inexpensively. Finally a source for herbs.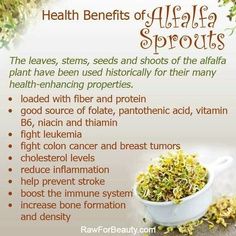 My indoor sprout garden is growing well.

Dan the UPS man delivered before Christmas some sprouters. I like them so much better than the mason jars I was sprouting in and draining in the kitchen dish rack. They are more space efficient. I can grow sprouts anywhere with them. The problem is I need more of them to keep an adequate supply of sprouts to juice.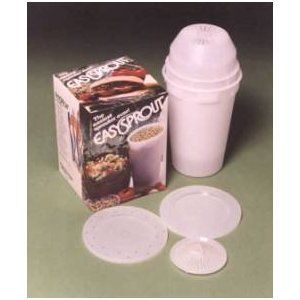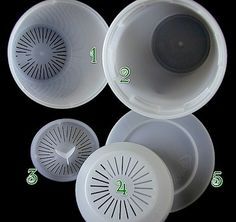 Last night I was looking online thinking about the difference between raw food and living foods. The terms are used interchangeably. Raw food is uncooked foods. Lettuce is a raw food, used uncooked in salads and juices or smoothies. It's picked weeks ahead of being sold in the grocery store so the nutrient count goes down over the time it sits on the shelf. LIVING FOODS are alive up until the point I juice them. The sprouts are an example of living food. As a result it has a higher nutrient count than lettuce for an example. The enzyme count and nutrition are higher when fresh picked and eaten.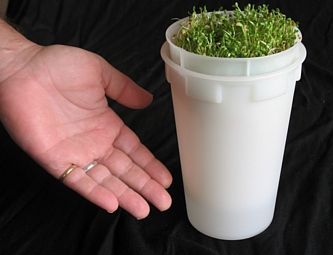 Sprouts are living foods which have tons of nutrition. It has higher amounts of nutrition than many vegetables per articles I have read. I haven't done a side-by-side comparison. I know drinking a cup of fresh sprout juice has done amazing things for me. More so than just juicing, as I have juice fasted before. It makes me feel so much more energy than just juicing. My skin glows from the inside out. It's super pretty to see. I haven't seen it on anyone before. I didn't notice it as much on just a juice fast. Adding in the sprouts is magical almost in the differences I see and feel.
I used to take provigil, a drug that acts like meth in a way, but is legal. The MS specialist ordered it to help with the severe fatigue that goes hand-in-hand with MS. It made me move better, but it also had severe energy crashes and side effects on it. Eventually the insurance company wouldn't cover the medication so off I went. It's been a few years since I have taken it. The sprouts keep me moving better than the provigil and it's a lasting energy that goes until 10 pm. It's incredible.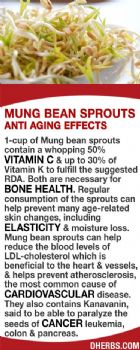 The organic sprouts seeds I purchased came from the Sproutpeople. So far I have juiced their French Mix which is spicy hot. Fenugreek sprouts which I really like as they are fast growing and they deodorize the body. I don't have any underarm smells anymore and I don't use antiperspirant or deodorant. Buckwheat sprouts which was super slow to grow. Black sesame seeds are bitter, high in calcium. I will save these for growing on soil. I have other sprouts seed blends to try out. We still purchase mung bean sprouts as they are so inexpensive. I try to consume a variety of sprouts day to day so I can absorb a variety of phytonutrients.
Starting day 9. Feeling healthier than I ever did on regular healthy foods.