2014 WILL BE MY YEAR and so will each year after, for me to continue with becoming a healthier and more fit ME.
I was pondering AGAIN the decision of the needed change in my life/weight/health at year end of 2010. My tools of source to assist in my life style change was revealed in 4/2011, SparkPeople. We are now year end of 2013, and I must say I am very very very excited with where the Lord have brought me. NO QUICK fixes, hard labor.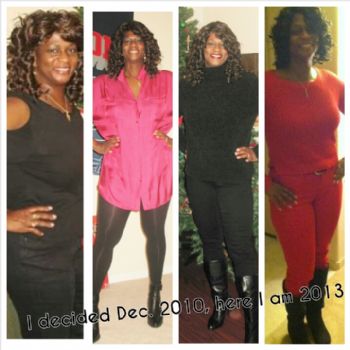 My goals for 2014 will be very similar to my year end of 2013.
It's not habitual for me yet, so I need CONSISTENCY. CONSISTENCY for me don't come without accountability. That come first from my Quiet Time spent with MY LORD, then by my spark-friends.

I will continue to strive to EAT CLEAN/AND GREEN, going at 90/10. The changing of my nutrition has given me better results than just counting my calories alone. No just in my physical appearance, but how I feel within.

Being I am still having issues with plantar fasciitis, I will continue to modify my fitness. My plan is Cardio, ST, Core, and Stretching. Still going for 5x a week. I am hoping to try out T25 or P90X3 by mid of 2014, if I am pain free. My ultimate goal with fitness is to keep with various routines I can maintain for life.

Drinking my water is priority. I definitely feel the differences when I have not gotten my body's needed amount daily.


I will rest. There are days I am challenged with getting my 7-8 hours, but it happens more often than not, now.

And yes finally, I decided I still need to lose a minimum of 8 more pounds, which I feel will allow me the room for the 2-5lbs fluctuating.
I am looking forward to reporting that I am off my blood pressure medication. My next wellness is not until 4/2014. I should be good to get off by then.
So, there it's out there my tentative plan for 2014. LLLLEEEGGGOO, I CLAIM NO DEFEAT, even when life happens.