Thursday, December 26, 2013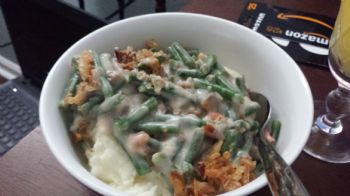 I ate so much mashed potato yesterday that I believe my insides are now 100% mash. I had requested my mother make me mashed potatoes and green bean casserole for Christmas and I ate the whole pot yesterday. It was 4 bowls total. It was everything I wanted and more. My mashed potato heaven. I won't be getting any until next Thanksgiving though which makes me sad.

It's worth the wait.
Christmas is over and I have the reality of the weigh in this Saturday morning. I haven't stepped on a scale since last Saturday which I consider an epic achievement. I was one of those people that weighed in several times a day. This week, however, I just straight up didn't care. I enjoyed myself to the fullest extent the law allows me to and I regret nothing. I also didn't exercise at all this week. I feel pudgy. There's only one more party to get through for New Years and then I'm done. January brings back a routine and I have all this cool new kitchen stuff to try out.
Today's lunch is leftover minestrone and a hummus sandwich on whole wheat. Very, very, very filling. I couldn't even finish the minestrone because the sandwich was filling enough for me.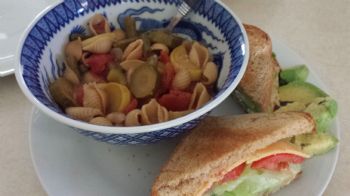 I've also been getting some crazy ideas about making my own sushi again. I can never get the darn rice to taste correctly. One of my presents was an insulated bento box and a steamer. 2014 will be the year of cooking!