Festivus - It's for the Rest of Us!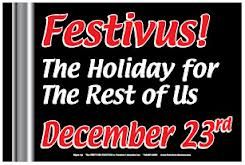 When: December 23rd
Are you feeling a little left out!? You don't celebrate Christmas or Chanukah. Kwanzaa just isn't your thing. And, you don't even know what Ramadan is.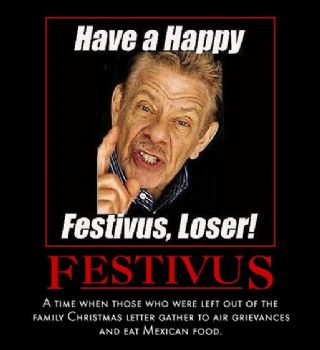 Then, come and experience the joy and the Miracle of Festivus. One might say that the Festivus holiday is a miracle in itself.
Still not sure if Festivus is for you? It's non-denominational. So, everyone can partake. The Festivus slogan is "A Festivus for the rest of us!" And, that means you, too. So...........
Happy Festivus to you!
The Origin of Festivus Holiday:
Festivus came into being as the direct result of a Jerry Seinfled television show episode. It first aired on December 18, 1997. The holiday was promoted by Kramer (who else!?)
The Festivus holiday was created by Seinfeld show scriptwriter Daniel O'Keefe. His dad, also named Daniel, had found reference to an obscure holiday called Festivus, which was first celebrated in 1966.
This Day in History December 23rd
Huneric dies and is succeeded by his nephew Gunthamund, who becomes king of the Vandals. During his reign the Catholics are free from persecutions.(484)
Theologian Johann Sylvan executed in Heidelberg for his heretical Antitrinitarian beliefs. (1572)
George Washington resigns as commander-in-chief of the Continental Army at the Maryland State House in Annapolis, Maryland. (1783)
A Visit from St. Nicholas, also known as The Night Before Christmas, is published anonymously. (1823)
The opera Hansel and Gretel by Engelbert Humperdinck is first performed. (1893)
The Federal Reserve Act is signed into law by President Woodrow Wilson, creating the Federal Reserve System. (1913)
World War I: Australian and New Zealand troops arrive in Cairo, Egypt. (1914)
World War I: Battle of Magdhaba – Allied forces defeat Turkish forces in Egypt's Sinai Peninsula. (1916)
First flight of the Vickers Wellington bomber. (1936)
World War II: Greek submarine Papanikolis (Y-2) sinks the Italian motor ship Antonietta. (1940)
World War II: After 15 days of fighting, the Imperial Japanese Army occupies Wake Island. (1941)
The transistor is first demonstrated at Bell Laboratories. (1947)
Seven Japanese convicted of war crimes by the International Military Tribunal for the Far East are executed at Sugamo Prison in Tokyo, Japan. (1948)
First successful kidney transplant is performed by J. Hartwell Harrison and Joseph Murray. (1954)
The 82 sailors from the USS Pueblo are released after eleven months of internment in North Korea. (1968)
The North Tower of the World Trade Center in Manhattan, New York, New York is topped out at 1,368 feet (417 m), making it the tallest building in the world. (1970)
The 16 survivors of the Andes flight disaster are rescued after 73 days, having survived by cannibalism. (1972)
The United States Environmental Protection Agency announces it has identified dangerous levels of dioxin in the soil of Times Beach, Missouri. (1982)
Voyager, piloted by Dick Rutan and Jeana Yeager, lands at Edwards Air Force Base in California becoming the first aircraft to fly non-stop around the world without aerial or ground refueling. (1986)
A MQ-1 Predator is shot down by an Iraqi MiG-25. (2002)
An agreement is made for the Kingdom of Nepal to be abolished and the country to become a federal republic with the Prime Minister becoming head of state. (2007)