Sunday, December 22, 2013
I made a few dozen sugar cookies last night and we decorated them all today. (And I only ate one!) The cookie dough was from a mix, but I made the icing home made with confectioners sugar.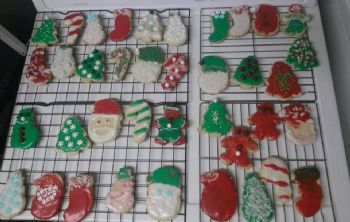 The one with the EXTRA icing are my nephew's lol! Poor kid was so hopped up on sugar it was kinda scary, lol, at one point he was just licking icing right off the spoon and then saying that he STILL didn't have enough to cover his gingerbread man! In all honesty, I think he might have licked the icing off a few of his cookies too....those ones are going to be put out for Santa, haha!
He is already naturally hyper and I imagine that he will sleep REALLY good tonight!