Sunday, December 22, 2013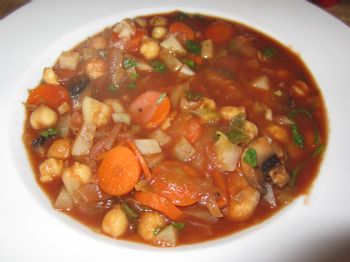 community.cookinglight.c
om/archive/index.php/t-783
12.html
I depend on bean and vegetable stews and fresh salads to keep me healthy through the holidays!
You can find the recipe via the link. The answer to her question is yes, the garbanzos must be cooked. I pressure cooked mine the day before. Garbanzos are notoriously hard to soften up, so 10 minutes definitely would not get you anywhere!
This soup is very tasty. I used fresh parsley and doubled the potatoes and cabbage. I also cooked the vegetables longer than she directed, so that they would be nice and soft. I did not use mint or oregano, as the Spanish people do not tend to use those herbs. Very nice! It's from More Fabulous Beans by Barb Bloomfield.