Saturday, December 21, 2013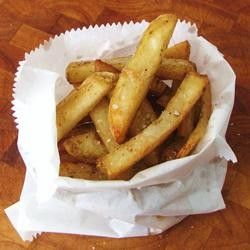 Chip Truck Fries
These are so much better (and with NO fat)
Ingredients:
6 baking potatoes, cut into 1/4 inch slices
Pam Spray
2 teaspoons seasoned salt
.
Steps:
1. Preheat oven to 425 degrees F
2. Coat potato slices with Pam. Sprinkle with seasoned salt.
3. Bake in preheated oven for 45 minutes, or until golden brown.
Notes:
I only had 30 minutes until I wanted to be serving a side dish.
I used my apple corer to make some quick potato wedges, covered 'em in water and threw 'em in the microwave for 5 min.
I sprayed the baking sheet with oil, dried the taters with a paper towel and sprayed again with oil after putting them on the sheet, then sprinkled on the season salt.
20-25 min at 425 deg made these nice and crispy on the outside and tender on the inside.
4-6 servings