Saturday, December 21, 2013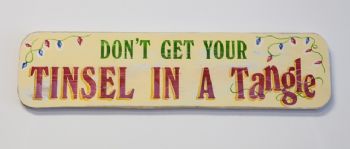 Can you believe it's the first day of winter? And here in the South, it's a very warm first day of winter. Warm enough that I'm not wanting to be in the kitchen for long. Now that the rain has stopped, I'm ready to be outside! Let's get this cooking finished!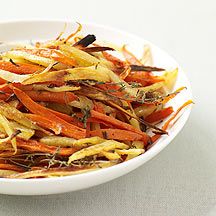 Roasted Carrots and Parsnips
Serves: 8
Ingredients:
1 spray cooking spray
8 medium uncooked carrots, julienned
6 cups uncooked parsnips, julienned
1 Tbsp fresh thyme, minced (or to taste)
1 tsp sea salt
1/2 tsp black pepper, freshly ground (or to taste)
1 Tbsp olive oil
Directions:
Preheat oven to 400 degrees F. Coat a shallow nonstick roasting pan or baking sheet with cooking spray.
Place vegetables on prepared pan; sprinkle with thyme, salt and pepper. Drizzle with oil; toss to coat. Roast for 20 minutes; flip vegetables and roast until vegetables start to caramelize, about 10 to 20 minutes more. Yields about 2/3 cup per serving.
Enjoy!