Wow..what a night...
It sprinkled enough that the roads were very icy Friday morning but we were able to get up to Madison for the Graduation and thank goodness. It was beautiful. Brande was only one of 3 who graduated with Highest honors (4.0 gpa) there. They had a wonderful ceremony, and then they had the pinning ceremony after. Brande's boyfriend, his parents, and Brande's Dad, brother, and I all went out to eat afterwards at a nice restaurant where we gave her a couple gifts.
During the time we were eating, Dan (Brande's bf) kept getting calls from his older sister, Cathy, who was on her way down from near Superior, checking in with them to let them know how they were doing on getting down to his parents home (they're having Christmas today, because his other Sister, April, is in Nebraska and coming home today, too).
Anyway, so we get done eating, and go home, and Brande calls and tells me to check my email and with me being in the middle of downloading videos from the ceremony for all to see who weren't there, my email wouldn't open, so I try to open the email on the browser.
Brande calls a half hour later, and finally the email opens at the same time she calls, and she asks if I'd opened the email yet. As she says that what do I see? Her hand with an engagement ring on it!!
Dan and Brande had gotten home and he knelt down and took her hand and asked her to marry him. Her dad and I had told him they couldnt' get married until she'd finished her schooling...and so he asked her that night after she got her degree.
He's a great guy, he said he wanted to let Gator (her golden retriever) give her the box, but was afraid he'd take it and play with it. His sister was calling because she had the ring and was bringing it down from where she lived. He apparently had already gotten it when they were up there a few months back, paid for it, and had her keep it up there and bring it down that night. That 's why all the phone calls.
I'm so happy for them, and for my daughter, so proud of her, graduating with highest honors. I wish, now, and pray for my son to find someone to be with and love him. He is such an incredible person..I just with he'd not gotten his shyness from his Dad. He deserves love like his sister has. I love him so much and wish I could help him, but I can't, that's his decision.
But I'm so proud of both of them..I think we raised them right.
Family Pic: Me Brande, Scott, and Rick
One of my email picture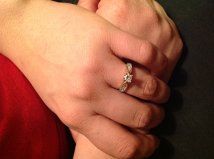 Brande & Dan