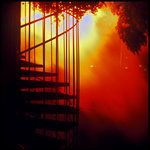 Last time I wrote about how I was going to work on three Streaks per month in order to establish once and for all healthy habits. My Streaks this month were ,
1. Give my self a Pamper Mission each day . Some small time and some small thing to make myself feel important and loved .
2. Eating within range 4 out of 3 days , I know this sounds too lax but I thought with the Holiday season here , I should pick a super easy goal just to get some success under my belt .
3.Meet my weekly Calorie burn set by Spark People.
I figured I would blog about this in case this idea works and I can finally break through this up 3 pounds down 3 pounds I have been stuck at for months and maybe if it works for me , It can work for others .
Even with theses super easy goals , I have been having issues , but I am learning why I am having these issues and hopefully I can wisely pick the next three to work on that will add to the previous 3 I will continue to do . I am calling it 39 steps and so next month will be 36 steps and so on .
My problem areas have been .
1. When I let myself have free range at holiday parties , Its harder to get back on track the next few days.
2, I dont seem to have a problem with exercise so I think my next set of Streaks should do with eating , I am an emotional eater.
3. I have yet to find my diet soul mate ! I used to belong to Weight Watchers and really did well because I had my Ladies ! I am a team player and always loved the idea checking in each week and talking about how it went . I havent really come across anyone yet that is as needy as me in this area ! Although I have met some wonderful people here at Spark and have some wonderful and supportive friends.Should I keep on looking for that perfect team or person or should I just come to the conclusion that perhaps I am putting to much emphasis on doing things as a team ?
I have learned is that negative self talk is so lethal to a persons well being both mentally and physically . I have cut that down by 80 percent I would say and I feel so much better ! I also have learned that my Streaks are puzzle pieces that will interconnect with each other to give stability to my bigger picture . I really do get inspiration from many people here even though they aren't personally talking to me, I am one of the people privileged to have them as my Spark Friend :)