SP has announced their January challenge and it's called #RockYourResolution
www.sparkpeople.com/blog
/blog.asp?post=a_january_c
hallenge_you_can_stick_with
I see both the pros and cons of making resolutions.
Pro: they give you a do over, a starting point.
Con: they allow you to put off until the New Year what you can just as easily begin today.
After all, what is so magical about January 1. It's not like all the distractions and temptations that kept you from setting goals have magically disappeared. Not only that, but you decide to join a gym (or resume going) only to find that it is so crowded that you can't get a machine.
So, despite having mixed feelings about setting resolutions, I took a page from a recently "featured blog" and simply thought about what it is I would like to do in 2014.
www.sparkpeople.com/mypa
ge_public_journal_individu
al.asp?blog_id=5566359
I wrote a blog recently about beginning a 5k running challenge for myself in 2014 with the goal being to run a 5k on Mother's Day. That is my starting point for my #RockYourResolution in January. My goal is to run 1 mile non-stop at 4.5 mph.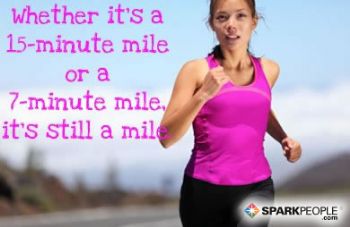 I'm not looking to set any records with my pace or how quickly I can run a 5k on a treadmill. Right now, I can run for 6 minutes non-stop at 4 mph. I can repeat this after a 2 minute break. I'm much further ahead than I was few months ago, but I am still not close to where I need to be.
So, my #RockYourResolution action plan is to do a run/walk workout for 30 minutes 3x a week increasing the duration and speed each week in January until I reach 1 mile non-stop at 4.5 mph. I will also blog and tweet about my progress as an accountability action. I have put together a motivational powerpoint to view daily so that I am reminded of what my goal is and that I can accomplish this.
If you are participating in this challenge, what is your goal for January....food or fitness. I am personally choosing fitness to focus on because I want to physically challenge my body in a way I never have before.