I read an interesting article yesterday about a psychological phenomenon called an extinction burst. Basically, any time you try to stop a behavior cold turkey, especially something that has a reward such as food, then your brain will try and sabotage you to returning back to old habits. An interesting read for sure.
youarenotsosmart.com/201
0/07/07/extinction-burst/
Yesterday I walked into my wooden bed frame again. Curse the day I bought a frame with pointy edges. My left shin is now entirely covered with a giant purple bruise and it broke the skin. Now that I'm hobbling again I will have to postpone finishing C25K week 6.

I have the worst luck with this C25K getting done. Besides that I'm also getting sick. My husband came down with some kind of chest cold Saturday and now it's spread to 7 of his coworkers. I'm next for sure! Ughhh.
Work has finally begun getting busy. Now that the last payroll of the year is done we are busy entering everyone's new salaries, benefit changes, deductions, etc for 2014. I managed to snag myself a half day this Friday though so hopefully I get everything done in time. Secret Santa potluck is Thursday at lunch and then I have the department dinner that night. At least it's not seafood again. This time we're doing Japanese cuisine and I'm getting the hibachi grilled veggies.
It's day 2 of me following the 5&1 Medifast plan and I feel so much better. It's also very helpful not to have to think about what I'm eating. I just eat the prepared meals and do what I've been doing for these past few months. It's already routine for me. I want to get back to 135 for this Saturday's weigh in so that I can indulge over Christmas. I'm hosting and have planned breakfast mini quiches with mimosas. Then of course I'm having mashed potatoes. And probably at least 1-2 bottles of very good and expensive wine.

Last night I made the best freaking spinach salad I've ever made. I swear, anything is improved by a fried egg on top.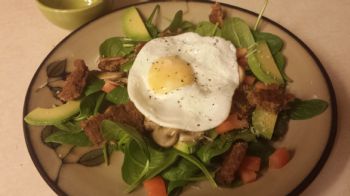 That's 2 cups baby spinach, 2 white button mushrooms sauteed, 1 veggie burger, 1/4 of an avocado, 1 large egg, tomato, and 1 tbs of shredded Parmesan cheese. Mmmm!!