I was in agony all last week. I spent entire days in bed, with horrible cramps in my stomach. I am neither constipated nor do I have diarrhea. I guess that lack of problem was evidenced by my normal colonoscopy last week. Friday morning I called the urologist/gynecologist specialist in Omaha and had my appointment there yesterday. Of course it is impossible at this late date to get the surgery done before the end of the year. I have to go back the end of January for a pre-surgery bladder function test. This test will determine whether I need additional mesh to fix that problem along with my prolapse which they will also be fixing. They explained this bladder function test and it sounded horrible. And they gave me literature, which I read on the way home from Omaha, and it doesn't sound like a test, it sounds like TORTURE! Holy Cow! As Du said, "Can't we just all agree that you have bladder function problems (mild incontinence (not nearly as bad as when I was obese), frequency, urgency), and put the mesh in without THE TORTURE TEST?" After that they will schedule the surgery.
Along this journey, I have been trying various things to help with my cramps. I have a heating pad by my bed and use it a lot. I can't wear my tight jeans/jeggings comfortably anymore. My stomach starts cramping when I put them on. I have found some wonderful yoga pants (Shopko--cheap!) that are so comfortable and stretchy and not constrictive around my waist. I also give up certain foods that I think might cause problems, like the semi-spicy pepperoncini peppers. I loved to put them in everything, I would just eat them straight from the jar. What's not to like? They're tasty and low in calories! But if they give me cramps, I can give them up. My latest deprivation is my Diet Squirt. I drank way too much of it anyway. I read some probably unsupported and highly inaccurate reports about how the aspartame in diet pop is poisoning us. People were having severe stomach aches. So I gave it up about a week ago. After my colonoscopy last Thursday, I started feeling better. I slept the afternoon away, and woke up feeling half-way human again. I had called my doctor for more pain pills and his nurse was to return my call. I was living on pain pills. The doctor's office never called back and I feared a very long weekend without them. But I decided to be calm, and persevere. It seems to help if I keep active for as long as I can when an attack of cramps hits. Keeping my mind off of the pain helps better than anything. Makes me wonder if the diet pop was part of the problem. because I have slowly been improving since I quit drinking it. I had one can of Diet Squirt when we got back from Omaha yesterday afternoon, and sure enough last night, had a mild case of stomach cramps. NO MORE DIET SQUIRT for me! Water tastes good!!!
My oldest son, Mark had a second seizure last Wednesday morning. When Du & I walked into the ER, his wife, Laura was at his side, wiping tears from his eyes. The first seizure was extremely upsetting, it was scary, and it was totally unexpected. This second seizure says to all of us, that the first one was not an isolated incidence, that this is a real problem, and that he probably has epilepsy, and that was probably even a more upsetting realization. So we all shed some tears. They finally got him on some medication (the diagnosis/prescription process is very very slow, we have found!), and he doesn't seem to have any side effects from the meds so far. His second seizure came two weeks and one day after the first. So we will see what happens in the next weeks. A nurse came in whose husband had seizures and was on meds. She told us he had a few seizures, got on meds, had one more seizure, the meds were adjusted, and he hasn't had a seizure in 15 years. That's what you want to hear. I hope it is under control now. I took Mark Christmas shopping Saturday, since he can't drive. It was a nice excuse to get to spend some one-on-one time with my oldest son. I used to call him my "golden boy." I am very very proud of the man he has become, and the husband and dad he is. He is successful in his work, of course his dad & I worry that this epileptic condition will have adverse effects on his upward climb in his company. I hope not. He is a good person, and I love him very much. He is also going to be a dad again (they have a 7-year old boy, and a 4-year old daughter), in May, so we need him to be healthy!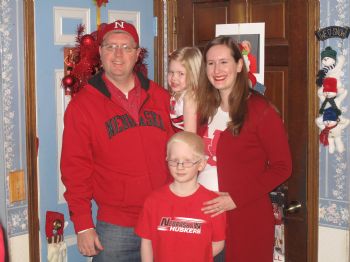 Later this morning I am taking him to the dentist. I have offered to be his transportation when he needs it, since he won't be able to drive for at least 3 months after his last seizure. After the dentist, we are going to lunch, another good excuse for some mother/son time. When the kids are all grown up, you rarely get opportunities like this, so I'm embracing every single chance I get to have some time together with my oldest son!
I wanted to thank everyone for their comments on all my posts. I appreciate your insights, your thoughts, and your suggestions. I have given a lot of consideration to the fact that these stomach cramps could be stress related. I don't feel stressed. But considering what we are dealing with, I know there's plenty of stress and stress causes inflammation. They told us that at the Cancer Treatment Center. Inflammation is our enemy. We want to avoid it. I am dedicating myself to eating lots more fruits and vegetables. I think we're having fish for supper tonight. Evidently the vitamins and supplements we take are doing no good, may even be harming us, the best thing to do is EAT RIGHT!!!
Wish me luck on my NO DIET POP cure for my cramps. I am going to go through with the surgery as well, probably some time in February, but that's more than a month away, and if giving up Squirt helps me have less pain, it's a small price to pay.