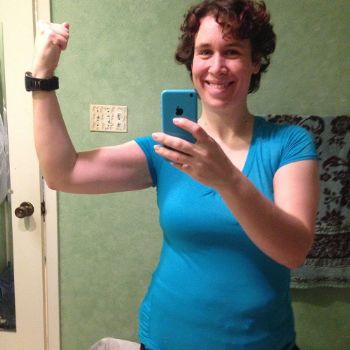 I'm about halfway through Stage 1 of the New Rules of Lifting for Women program. I am definitely getting stronger in a major way (look at those guns!!), and really enjoying the program. I mention this because New Rules was a HUGE part of my plans for 2014. I have a lot of big plans for 2014 - it'll be the first year in about fifteen years that I'm not actually making weight-related goals!!! - and the first was to finish this program in May/June. Then the plan was to go to a writer's conference at the end of June - one I've already booked - and then in July, go through with the surgery I need to repair my belly-skin (severe pregnancy damage).
Back in September, I started doing research into the particular surgery I need to have (a panniculectomy, complimented by abdominoplasty) and the surgeons in town who perform it. Long story short: my insurance claims to cover panniculectomies but rarely does, saying they are purely cosmetic procedures (even if you've had constant rashes/infections due to the overhanging skin like I have), and only one plastic surgeon approved by my insurance actually performs panniculectomies rather than the more traditional abdominoplasty (tummy tuck). The good news is that when I met the doctor, I liked and trusted him. He gave me a lot of good information and said he would submit the application to the insurance even if there wasn't a lot of hope that route.
I haven't heard back, from either the doctor or the insurance, which was to be expected. At the time of my consult in September, I decided I simply needed to save up money for the procedure out of pocket, and hoped I'd have the chance to do that by April or so next year (which I'd also hoped would give me time to lose a bit more weight first, too - want to be as close to my final goal as possible before surgery!). I figured I'd call the doctor back - if I hadn't heard from him or the insurance, of course - a few months before I wanted to schedule the surgery. But then in November, I decided to switch focus from losing weight to building strength, and began the New Rules program. That will take me to May/June, and I have that writer's conference at the end of June...so my thoughts about surgery got pushed back to July.
In reality, however, this is a TERRIBLE idea. Surgery in July means surgery while my kids are out of school, which means they will be around all day long while I am unable to move much. Recovery from this surgery is six weeks long, and that's assuming there are no complications! I'd basically spend most of their summer unable to be with them at all, or take them anywhere, or do anything with them, and my husband would have to be home from work for a lot longer. Surgery in July also means going through recovery - you know, wearing compression garments and such - during a time of year when the temps are 85 degrees at dawn and 100+ at midday, every day, through the end of August. Sweat, much? I have NO desire to do that, or to deal with possible infections from all that sweating... Then, of course, there are the practical issues with the fact that I don't want to be recovering from surgery while I'm supposed to be contacting the agents from the conference, and later, getting my kids ready to go back to school.
This past weekend, Jason and I talked about this. I have a few options - postpone the surgery until next fall after the kids are back in school and the heat isn't *quite* as bad (though really, we've had 90-degree days in December this year!!!) - or move it earlier. My original plans of April - based on the need to wait until after my sister has her baby in February, and until after we celebrate the five family birthdays we have in March - are no longer really an option. If the surgery is done in April, the recovery time will barely have me healed in time for the writer's conference that I've already booked and paid for, and that's assuming there are no complications. "Earlier," then, means January. Assuming that's possible. And if not, then ASAP, and I might just have to see my sister's baby pics by email for the first few weeks.
Which means...I might be getting my stomach repaired NEXT MONTH.

I called the doc yesterday and they are checking up with the insurance and will call me back. I'm hoping to schedule a second consulting appointment sometime this week, and get things rolling. Ideally, we would really like to do the surgery sometime between January 6th and 24th, the sooner the better. But I don't know how fast these things are scheduled. In any case, Jason and I have decided we are definitely going to schedule ASAP. It messes up my original plans for 2014 - particularly, needing to lay aside the New Rules program AGAIN while my belly fully heals (not sure how long before you're allowed to do heavy lifting) - but honestly, this surgery means more to me than sticking to my plans. I'm nervous and excited and really hoping I can get to it soon!!