Back from another not-so-exciting weekend. Last week I was attacked by an evil cold and I am only today starting to feel normal. Still some head congestion, but nowhere near as bad it was last week - I can at least talk normal again.
On Friday I left work early so that I could get ready for J's work holiday party. I had to stop at the store and get some pocket tissue packs since my nose was running ridiculously, and also some panty hose. I stopped at Safeway, and since Michaels was right near there, I went to Michaels and spent way too much time buying scrapbooking materials, so when I got home I had to rush to get ready - so much for planning some extra time in there. I was excited to wear my new red dress, though, even if I wasnt so much up for partying or socializing. I wore my hair in its naturally wavy state - I dont do that very often, but I've been feeling it lately.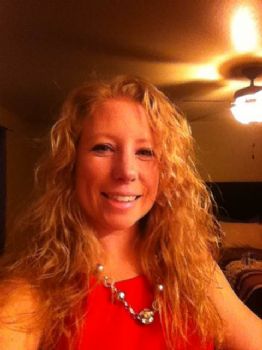 After getting ready and packing a bag, I drove to J's house - it was easier than him picking me up because I live in the complete opposite direction of where we had to go. I didnt hit as much traffic as I had expected, so I got to his house earlier than expected and he wasnt ready yet. Finally, we got on the road and hit a ton of traffic. It took us a little over a half hour to get where we needed to go, but we arrived about on time. It was at a restaurant/hotel about 2 towns north of us. When we got there, we found the small hall that we would be in, picked our table and seats and reserved seats for J's coworker and her husband so we would have people to talk to, and then we went upstairs to the bar to get drinks. The drinks were apparently very expensive. Even though I was taking cold medicine, I decided to get a glass of wine anyway. This caused me to be pretty dizzy for a while. Then we went back down to the hall and mingled for a long time. It was weird because I guess J isnt close with his coworkers and none of them even knew I was in the military. I guess I had gotten used to when we were stationed together and everyone knew who I was. I dont know. I felt like he must not talk about me very much which kind of made me feel sad a bit. Anyway, we eventually sat down so they could start dinner, and I told J we had to take a picture together.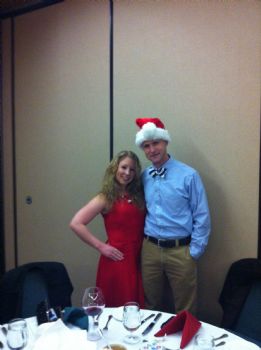 The first course of dinner was a salad and it was decent. There was no cheese on it which I appreciated. Then for dinner we had a choice of chicken or pork - I went with the pork because it seemed the least likely to upset my stomach. And then there was carrot cake for dessert but I didnt eat it because I assumed there was gluten in it. Overall, dinner was ok, but something upset my stomach later that night. :/ After dinner, there was a white elephant gift exchange and J ended up with a bottle of Spiced Rum. Afterwards, we left and went home, and though I took night time cold medicine, I didnt sleep well at all.
Saturday morning J had to go to work to tutor one of his students for extra help, so I went home and laid on my couch for a while since I wasnt feeling well. I also made myself gluten-free chocolate chip pancakes which were yummy. Then after I started feeling more awake, I showered and went out to run some errands. I actually went and got my nails done. Acrylics and all. I've been meaning to do this for a while, but kept putting it off because it's not a necessity by any means. But I wanted to do something nice for myself, and they not long at all, and look nice. Then I went to Archivers, which is a scrapbooking store. I knew it was in town but had never been there before, and I was so glad to finally go. It was pretty awesome. I am definitely starting to feel the scrapbooking bug again! The rest of the day I just spent playing with my paper products. I'd been reading a lot about Smash Books which is kind of like old-school Scrapbooking - unlike current school scrapbooking where you make every page super pretty and perfect. Smash Books are more like throwing all of your stuff into a book to get the memories saved, rather than making it look like a piece of perfect art. I refuse to buy Smash Books because that seems silly (and I dont really like them) so I ended up making my own by going through all of my scrapbooking paper, cutting them different sizes too, and then binding them together with my Cinch to make it into a book. I forgot to take a picture, though.
As you can see, I didnt run on Saturday. I had a 6 mile run planned for my half training, but since I was still sick and not feeling better, I didnt want to make myself worse. I am glad I took the rest day instead, but I need to go back and rework my training plan now. I am sure I will be fine reworking it, though.
On Saturday I also did some organzing! I finally organized the under-the-stairs closet and turned it into my fitness storage closet. It makes me happy.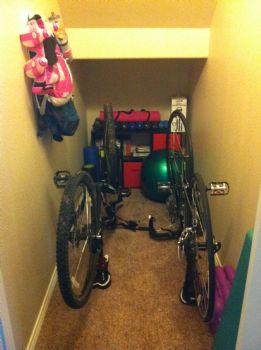 I also finally hung up my bib and medal holder that I made last year haha. Someone was a bit lazy. I organized some of my scrapbooking materials, too.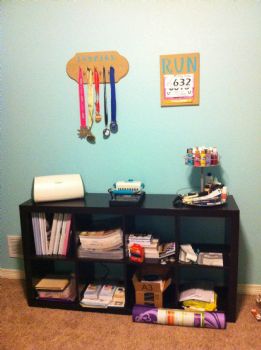 Sunday I ran an errand at Joanns Fabric to pick up batting for my two throw-sized quilts that I still need to finish. I had a coupon for $15 off a purcahse of $75 or more so I picked up a few scrapbooking things while I was there, too. Then I got Garbanzos for lunch. I checked the menu to make sure I only got gluten and dairy-free items, and still ended up feeling stomach sick. That was kind of disappointing. I went grocery shopping, but never ended up cooking because I was feeling "meh". I eventually did sit down and free motion quilt my Christmas table-topper that I made for my mom. I also sewed the binding on to the front of the quilt, but I still need to hand sew the binding to the back. I think it looks great, though!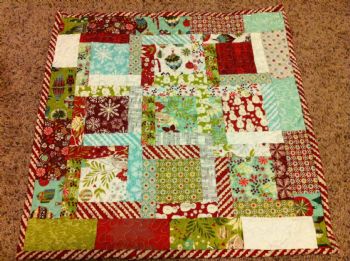 This week is going to be a busy week. Not so much at work. I do have to get a draft of my paralegal's evaluation done. And a few phone calls to make. I have two meetings to attend this week. One here at my base, and one at the Academy on Thursday. Since I am feeling better, I am planning to get in some running this week as well. And I also have to finish my two throw-sized quilts. My hope is to do all of the free motion quilting on my mom's quilt tonight if possible. Then do the binding tomorrow or Wednesday. Then on Friday I plan to free motion quilt my grandma's quilt. I need them to be done by Saturday night since they are Christmas presents and I am flying to NJ on Sunday! It's going to be really challenging, and I might end up staying up late at night to finish them this week, which is unlike me. I dont stay up late really ever.
That's all I have for now... Hope everyone is off to a decent Monday!