Forgiving myself:
It's been 4 months since my 70.3 and there are some things I never really got over from that event. It was a huge success and I learned a lot about myself and how far I am willing to go to see things through. There were also things that went very wrong during that race, things that really caused me a real feeling of shame. Real or perceived, I felt it for a long time afterward but now, I feel like I've given myself permission to move on.
Let me explain...
For those just "tuning in" here are links to the original race blogs...
www.sparkpeople.com/mypa
ge_public_journal_individu
al.asp?blog_id=5458814
www.sparkpeople.com/mypa
ge_public_journal_individu
al.asp?blog_id=5455679
I trained HARD for this race and put my heart into it. The 1.2 mile swim was cakewalk and cycling was my strength. The 56 mile bike leg was going to be tough but I was no stranger to the distance. I had trained on hills around here, hills that were steep enough that I was able to clock 38-42 mph going down the hill I just climbed and did that over rides going as far as 60-70 miles. I had it down, my race nutrition was spot on and I felt like I was going to do well.
That was until I got on the actual bike course.
The only way I can describe it is the feeling you get getting dunked under water until you almost pass out then allowed a quick gasp then thrust under again. The hills came hard and fast and kept me totally off balance until I hit the big one at around mile 26-ish. The gears on my bike couldn't go low enough to take such a steep ascent. That followed very quickly by the leg cramp from hell and I was forced to dismount.
I wont rehash the total experience here, you can read it at the blogs linked above.
The part that stuck with me was the feelings I had while marching up the hill in my race shoes (like walking in wooden Dutch clogs). I felt alone and in deep panic, feeling like my dream of finishing was vanishing very quickly. It's hard to describe unless you've been there. I was pushed to my extreme limit, I choked, I sobbed silently slogging up the hill, I was in pain, and I was totally alone.
I felt like a failure and I was fighting the urge to quit. For those that know me... I never quit. It would have been so easy to do. I made it up the hill and got hit with several more then I finally felt like I got back in the race at around mile 35-40ish and actually began to race like a triathlete.
I never forgot that day, I felt like I really got a black eye so to speak. I've never been driven to tears before...ever..by any race I had ever done.
When I got home, the damage to my bike was apparent. It needed TLC in the worst way. I got it fixed and my bike, the one that I was so proud of, even felt like it was an extension of me (it's a cyclist thing), was parked in a corner and promptly forgotten about. I didn't even want to see it. It's hard to convey this in a way that is easily understood but there were just some bad memories that were too fresh. I even avoided my triathlon magazines... there are several issues I haven't looked at...collecting dust.
Yes I finished but I wasn't totally proud of myself like I should be. I felt, in a way, like I didn't really earn it.... until today.
I watched the 2013 Kona Ironman and during the race, I saw something that gave me a sense of release... I saw another athlete walking in their bike shoes because the cramps made it too difficult to keep riding. It sounds so silly, but for me it was a pivotal moment. I felt like it was ok now, I could let it go.
I have officially forgiven myself and I am now on speaking terms again with my bike and I brought it out of the back room and it is now in my office ready to be set up once again on the indoor trainer.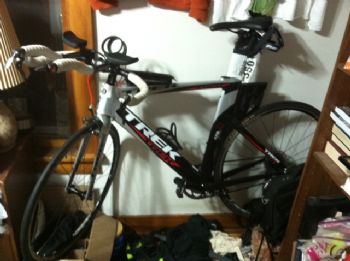 My goal for next summer is to execute one or more Iron-distance rides (112 miles)
Having hope...
As most of you know, things have not gone well for me over the last few months. It has been a perpetual downhill slide since the big race and the two half marathons following were dismal and painful....then came the diagnosis..
www.sparkpeople.com/mypa
ge_public_journal_individu
al.asp?blog_id=5558052
I fell into a slump and really felt like I had lost my identification as an athlete and pretty much over-reacted and found myself scared to get on a treadmill for any reason so I shut down completely. The reality of the situation is that although distance running is off the table until I get my orthotics, I can do 5k pain free, it's when I go beyond 10k that there is a problem. After such a dismal end to the racing year, I just divorced myself from all endurance activities because I was tired of hurting.
I hopped up on my treadmill today and did a 30 min run/walk at an easy pace today and while I struggled a little, it felt really good to be back in control. I am not pushing myself or stressing my foot but I am simply getting in some much needed fitness. No pain or problems...except the gasping from several months of detraining.
Today, however small of an effort this was, I FEEL like a runner again.
I feel like I'm back.
Feels good.