Friday, December 13, 2013
I just keep eating normal food. The holidays are making me slack, you guys. I'm keeping up with my exercise but I keep eating regular food. Last night I made breaded turk'y fillets with gravy and sauteed brussel sprouts in olive oil. It was delicious.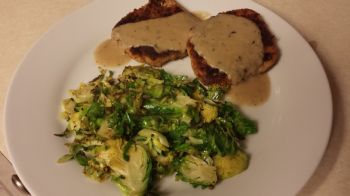 When I went grocery shopping the shelves were empty because of the bad weather in Dallas. All the produce was gone so I had to improvise for lunch today. I'm eating a chik'n taco. It's actually kinda dry because I don't have any sauce. I found one flour tortilla in the back of the fridge, added a Quorn cutlet, and lettuce/tomato. Lunch of champions...
Tomorrow is the company Christmas Party and I plan on eating dessert. Also tomorrow is another weigh in. I know I'm going to see a gain. I just have to try not freaking out. The holidays are throwing me off with all these darn parties. Now I'm told the department head is taking us out for dinner Thursday night. Sigh. I'm gonna be most likely going full Medifast the first week of January just to drop whatever I gain between now and New Years Day.
I think I've eaten enough powdered food to last me a lifetime though.