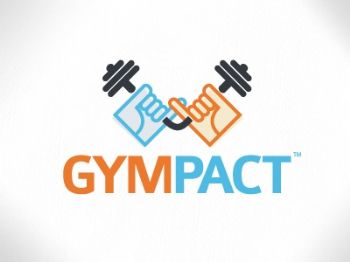 So, my hopes to get "The Walk" app have been dashed to pieces by the fact that it requires iOS 7 and my phone can't have iOS7 because of its age. I cry age discrimination!
Ah, well. Such is life.
I was checking out fitness games on iTunes and came across GymPact. I'm still not sure if it's for me. For one, I'd have to get a Paypal account or give my credit card info. and I'm just not sure how to do get a Paypal account or if I would want to give any monetary info. to them.
So, anyway, here's the concept:
What's a big motivator for most people? Yup, you called it--money! $$$$ moolah, dough, cold hard cash. And that's what this app. offers its users.
Well, its active users. Those who don't follow through end up paying the ones who do follow through.
Either an iPhone or an Android phone is required.
It tracks one of 3 ways:
You can check in via GPS at a participating gym that is not part of the company you work for--if your gym doesn't participate you can request that it be added. It does check-ins at 7 min. intervals to make sure you're still there so keep your location services on.
They can track via GPS for outside workouts. Be warned GPS can be a major drain on your battery.
And the third option is tracking via your phone's accelerometer for workouts at non-participating gyms or at home.
Other than GymPact tracking, they offer integration with FitBit, Jawbone Up, Moves, and RunKeeper (verified GPS activity).
Also, even though you may pay other players and they may pay you, the "pact", itself is with you and GymPact. In other words, no one other than GymPact and Paypal should know your account information and you and other players don't decide on who, in particular, gets your funds or gets funds from you.
This app. does NOT require iOS 7 or at least not yet. Usually, apps cover legacy downloads but won't offer new downloads with old software so even if I don't think I'll use this for a long time I decided to download the app. now rather than later.
Oh, yes, the app., itself is free, and there is an accompanying website to log-into for setting things up, making changes, etc.
Here's how the money aspect goes:
You pledge between $5-$50 for each day missed (in increments of $5) (This is what I see on the actual app. You may be able to adjust this more on the site).
For each day pledged and accomplished you receive $00.50 for each day. So if you pledge only one day--just $00.50 for that week. 7 days then that's $3.50 a week.
Once you reach $10 you can withdraw your GymPact rewards via PayPal. They don't say if your credit card will receive a credit if you sign up that way.
They claim that they have a very flexible policy and system of scheduling and re-adjusting to take into account vacations, illness, and other income and budgetary changes for individuals.
Just to make sure there's no confusion (because of my title) they do track more than walking or running. It claims to track hundreds of exercises.
The app. works in 75+ countries so it isn't limited to US users.
Sign up offers Facebook or email registration.
One possible caveat: You must work out at least 30 min. at a time for it to count toward your pact.
Think this may be the key for you? Want more info.?
Here's a link to their FAQ:
www.gym-pact.com/faqs#q1
Here's a link to their homepage:
https://secure.gym-pact.com/
SP doesn't seem to like https links in blog posts so just copy and paste into the address bar and hit enter.
And yes, I do like that their page has https since it involves money exchanges!
I haven't logged into any other part of their site, though. So, I don't know if only the home page and log-in pages are covered. If you decide to go for it be sure that https is on ALL pages before giving any monetary information.
Just curious---
Any takers?