Wednesday, December 11, 2013
Ugh, I'm having a fat day. I went to bed angry last night because the husband and I got into an argument. It's not a issue at all but what made me see red is what always makes me see red. He never takes his eyes off the TV screen as I'm talking about what's bothering me. Like the game he's in takes priority. Then I woke up this morning in a foul mood and I feel fat and tired and of course it's 'wear your ugly sweater day' at work. The last thing I want to do when I feel fat is also have on this lumpy itchy tacky fugly sweater on. Let's take the most unflattering photo imaginable and send it to all 300 employees. AWESOME.
Then we went out to lunch as a group for someone's birthday. They picked seafood... again. I swear, it's like the south offers no other cuisine except seafood. Might as well not be food if it's not gumbo or a crawfish or some kind of other fish. At least this restaurant had boiled eggs on one of their salads so I got that. $15 for 2 cups of spinach and 2 boiled eggs. Side of light ranch dressing so it reduces the amount used. Cause you know they will dump that whole bottle on there. Want some salad with your dressing, ma'am?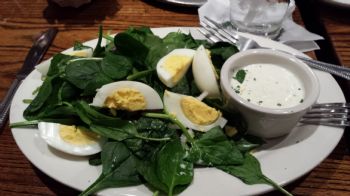 At lunch this girl would not stop talking. She literally talked for 3 hours straight. I have this giant migraine now and it's very hard to stay focused. As if my holiday festivities could not get more festive, my department is going to throw their own Christmas party. That makes 3 parties in the next week that I have to attend. Sigh.
Bah, humbug.