Biggest loser Season 15 Episode 8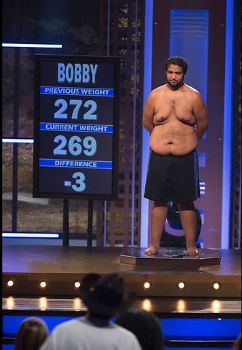 www.nbc.com/the-biggest-
loser/video/work-week/n44000/
We see Ruben, who went home last week, and he's 350 (total 112 pounds lost). He's got a personal trainer, and I got to say he's looking more clicked in with his workouts than he ever did on the ranch.
The contestants have a pop quiz at a diner. The losing team has to work at the diner for a week, to show viewers that you can work full time & lose weight. They can still come back to the ranch to work with their trainer. Jillian's team loses.
While the white team is working in the diner, tempted by some really unhealthy foods, Dolvett is in the gym talking with his team, and they realize that the real journey begins when they get home. Dolvett says your demons will never change, but it's how you deal with these demons that defines you. (This is the golden nugget for the show) His team told him how much they appreciate him, and Dolvett just holds his hand on his heart and cries, and he's so beautiful. I love him!
After working at the diner the white team brings back cookies, pastrami, etc. to tempt the other teams while they hit the gym late at night. Some of them look really tempted, but Bobby and Chelsea throws all the food away. Hap said he would eat it out of the trash anyway. Yikes! haven't they learned anything? So Bobby & Chelsea put dish soap on it.
Dolvett and Jennifer skype with her family, and he connects with her young daughter Taylor, who is about 70 pounds overweight, and he offered to be her trainer. Dolvett's tips: during commercials, stand up and sit down repeatedly, and to eat lean protein all dark green vegetables. (he's saying no carbs the way a kid would understand)
At the weigh in, Bobby lost only 3 pounds, and was sent home. He's pulled big numbers all season, but this week it caught up with him and he had a low week. Well, low for this show. In real life 3 pounds would be over the top.