Wednesday, December 11, 2013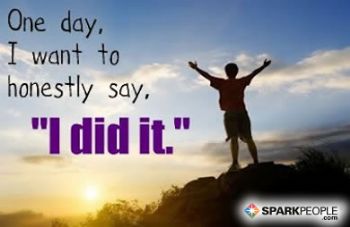 The question I have to answer for myself is "What is the 'it' in my life that I want to accomplish at this point in time? Losing weight and getting in shape is an admirable goal but there has to be more, right? There has to be something that makes me say "Wow, I can't believe I did that?"
Workout out for the sake of working out and getting/staying in shape is great. But, what is behind it? That motivation is different for everyone. Heck, my motivation is different today than it was 6 months ago. I'm much stronger now. I'm challenging myself and my body to do more.
But I still am looking for my "it". I've started increasing my running time during my walk/run workouts. Could running a 5k by my "it"? That seems almost impossible right now, especially when my speed is still 4.0 to 4.5. They say sign up for a race and that will motivate you....been there, done that and ended up walking it with a friend (and all the other people who didn't train).
No this time the motivation has to come from within. I have to tackle the mind over body obstacle. I have to push through the 5 minute running wall. I have to gradually increase my speed.
I'm putting this out there because I am challenging myself publicly to do this. I am giving myself 4 months to run 3.2 miles non-stop starting in January. There are many Mother's Day races for breast cancer and my "it" is to run in one with one (or more) of my daughters.

I am going to start a weekly blog series to keep myself accountable. I know this seems like a strange time to set a goal like this with the holidays and all that means right in front of me, but my hope is that by putting it out here, it will keep me motivated through the end of the year.
If you want to me join me, Spark mail me and we can encourage and support each other.