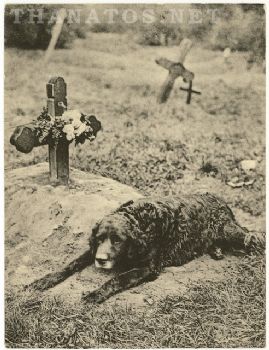 I am rather sad, due to a DEATH.
I will explain more at the bottom of the blog. Death is so sad, no matter whom or what you loose. I lost something very important to me. At first I was MAD as it was too soon, then I realized that new DOORS will Open.
Before this event happened, I was busy LEARNING from the Experts.
It seems that all the experts are confused, they say one thing and change their mind a few days later, only to change it back again. Whew. One day this food is good to eat the next day it's not. SO CONFUSING. I have come to the conclusion that all experts are confused, mixed up, have ideas, but in the end still tend to be confused.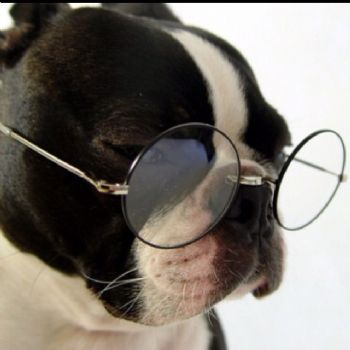 One expert I trust is the Hippocrates Institute. Brian and Marie Clement are a wealth of the best nutrition knowledge around for those of us who want to stay healthy or who are battling health issues. I found their videos on youtube. A set of wonderful videos they sell at the Hippocrates Institute. My mind was blown away by the information they shared. I knew bits and pieces of what they said, but they way they put the information together amazed me. I know I will watch the videos over and over again. I even took notes, pausing the videos as I watched. The said each person that visits is able to have their blood-work analyzed for free at their facility so they can continue to guide them on their path to health. It gives Hippocrates institute information on diet that is leading edge. You can watch the series here: http://www.youtube.com/watch?v
=RfxFBjvcbhw This is the first one. If you click videos and scroll down you will find 12 videos about a hour each. I can't say enough good things about this video series, if your serious about your health. I have learned so much.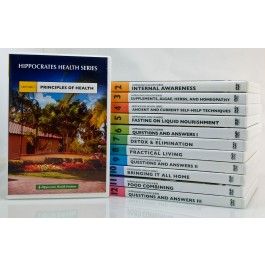 Their diet is a vegan diet. They make a juice of 50 percent sprouts and 50 percent vegetable juice (Cucumber and celery) 3 times a day. Each drink is 12 ounces. In addition they drink wheat grass shots a few times a day. They consume 2 giant salads a day. They do allow other foods such as nuts, some fruit, during the week. They explained why on their videos they picked the foods they did in detail.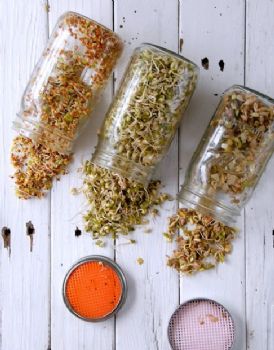 The sprouts contain the maximum amount of nutrition in any vegetable available. They said sprouting increases the nutrition by 10-30%. They like sunflower sprouts which have about 25% protein as one of the sprouts they drink in the morning. Sunflower sprouts contain all the omega 3's the body needs and is so jam packed with nutrition.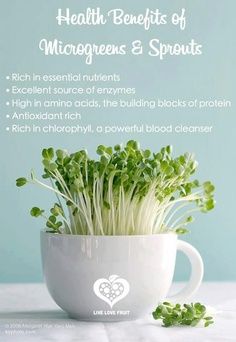 They encourage people to raise their own sprouts as they are so inexpensive to grow.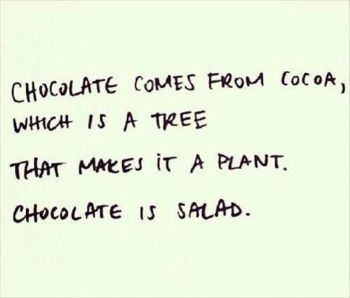 Watching their videos just made sense. It made sense that if you follow their program your body can heal, you will loose weight, and you will feel better. I plan on experimenting with my diet to see how I feel on it. The hardest part is the willpower. On one of his videos he said results are about self-love. How much you love yourself. You will fluctuate on how much you love yourself from day to day. How much you love yourself influences how willing you are to feed yourself in a healthy manner. WOW. He said you have to be willing to love yourself in order to ignore those around you who freak out at the changes you are making, people who criticize even when they see how much are improving.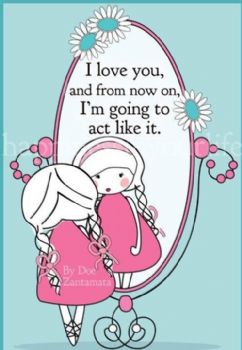 Yesterday I made the decision to use the credit card to purchase a variety of sprouts. I ordered Fenugreek, Alfalfa, Clover, Garlic, Onion, Buckwheat, and many more sprouts. The seeds aren't very expensive and each pound of seed is supposed to grow about 10 pounds of produce. Hubby and I went to the health food store and I picked up a few lids for mason jars that have screens in them. They make growing sprouts easier.
Today's juice has Clover sprouts, Mung Bean sprouts, apples, fresh rosemary, fresh sage, lemon grass, fresh spearmint, fresh turmeric root, fresh oregano, fresh garlic, ginger, grapes, zucchini, cranberries, lemons, bell pepper, spinach, kale, and more. This time juicing I added in some packets of fresh packaged herbs sold at the grocery store. I had no clue as to what the juice would taste like. I was pleased, it's super yummy. The herbs have their wonderful medicinal values of their own that many people forget about. Next year I must enlarge the herb garden greatly as I really enjoyed jugging my herbs. It makes sense to juice sprouts after what I learned.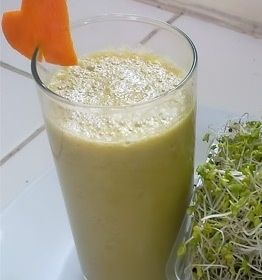 I made up a batch of vegetable soup while I juiced. Yum. I plan on mostly juicing with some vegetable soup, some cooked vegetables, and salads as my diet. Salad dressings will be home made when possible. I will work towards transitioning over to their diet. The do allow 20% cooked food after a few years on their diet. I plan on leaving in some cooked foods. They said more cooked foods caused issues with an immune response as verified with with blood work.
The Breville Juicer is DEAD. It made a blended soup. I ended up re-juicing the slush in the Sampson 6-in-1 juicer so I wouldn't waste the ingredients. The Breville Juicer is about 6 years old, but has only about a year or less of hard juicing time on it. While I loved how it could juice a large amount of juice quickly, it could not juice greens, grapes, and wheat grass very well. For now I will have to make do with the Sampson juicer which can do it all. Hubby wants to purchase another juicer. YIPPIEE !! I haven't decided which one will be our new backup. I must go do some more research. Death of One juicer opens the Door to another one.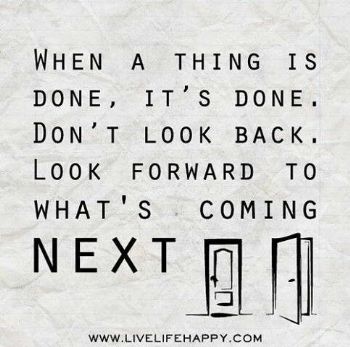 The snow is still on the ground here in sunny California. Sweet alyssum pokes its cheerful flowers up through patches of ice. The ground is FROZEN. The cat's foot prints are frozen in the mud outside.
That just doesn't happen here. It's been as low as 16 degrees. My lemon tree looks frozen. While the branches have green all the leaves are frozen. I don't know if it will pull out of it. We covered it up during the frosts. It supposed to be able to live in our zone here, but it normally doesn't snow. Sigh. On the bright side the pansies are in bloom and the paper whites, the sweet alyssum. The hummingbirds are still alive even with the severe weather.