Hello. Hello. Back after another rough weekend, but trying to stay positive!
Since it was Wingman Day at the base I am stationed at on Friday, I decided that we should go home early since we werent actually participating in Wingman Day activities and pretty much everyone was closed on the base anyway. So we left around 2pm, and after going home and getting changed, I headed to Target where I picked up a modular bookshelf to help organize my under-the-stairs closet. I also went to Joann's and stood in the fabric cutting line for an HOUR just to get one thing of fabric cut. I also picked up a few small Christmas decorations since pretty much the entire store was 60% off. It was just ridiculous that the fabric cutting line was so long! When I got there they were on number 98...and my ticket number was number 23. I also ended up ordering and picking up Thai food for dinner (my local Thai restaurant has a gluten-free menu!) for me and J. He seemed pretty apologetic and sympathetic for what I've been dealing with, and I figured it wasnt worth arguing about. We watched some tv while I also put my Christmas decorations up. My tree is finally up!
Saturday morning I was scheduled to run an Ugly Christmas Sweater 5k, but that didnt happen. It was 0 degrees at race time and the weather channel said it felt like -10. Yup. I definitely did not run in that. It was not worth risking getting sick to run in that crazy weather. I dont know how some people do it. But if the temperature is 0 you can bet I am not going out running in that! I considered running on the treadmill at the gym, but I got off to a late start that morning and I needed to run some errands and bake cupcakes for a holiday party we were going to. So I ended up skipping the gym completely. My errands took longer than planned because I had to go to THREE different stores to find the Betty Crocker gluten-free cake mix! But it was worth it. The cupcakes turned out great!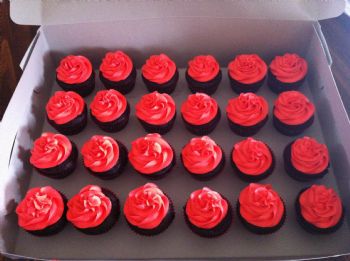 We went to the holiday party at 5pm. It was for the legal office at the base I am stationed at. Though I dont work with them, they invited me so I felt as a professional responsibility I should go and dragged J with me. But since I dont work with them, I dont know them very well aside from the casual conversations I occassionally have with them. And I wasnt feeling very social. Pretty much everyone was married and had little kids running around, too. The kids loved my cupcakes. I never even bothered to tell anyone they were gluten and dairy-free since everyone seemed to like them. Most people thought they were store-bought, too. We left the party around 7:30pm and I was pretty tired, but I didnt sleep well at all. :/
Sunday morning I stuck with my original plan which was to try my first ever yoga class! The class I decided to go to was a Gentla Hatha yoga class at 10:30am. It didnt take as long as I expected to get there, so that was nice. The instructor who was at the front desk (and taught my class) was very nice. I had some issues registering with my living social voucher online and she had some troubles, too, but she was very nice about it. The class was small, likely because of the bad weather, but I enjoyed it much more than I ever enjoyed doing a yoga dvd at home. I did have a hard time calming myself down and relaxing (because I've been having panic attacks again and my anxiety is pretty high right now), but after about 15 minutes I seemed to calm down enough to enjoy class. I will definitely be going back and trying some of the other classes out, too! So yay. I am glad it was a good experience!
After yoga, I had a large lunch which left me full the rest of the day, and then I went grocery shopping and batch-cooked for the week. I made egg and sausage muffins for breakfasts this week, warm pizza salad for lunches, and a slow cooker honey mustard chicken for dinners. Didnt take too long. I was feeling pretty anxious by the time I finished cooking, so I ended up going over to J's house because I didnt want to be alone. He was much more supportive than he was last week which felt good. And I was able to get out a lot of what I have been feeling and holding in, and it just felt nice to get it out and have someone listen to me. I did talk to my mom yesterday too, and her hair is officially falling out so she was even more difficult to talk to. I feel bad even saying that, though.
This week officially begins my half marathon training for Princess! Which means I have to get in my runs now - no more skipping them. And since I've been so stressed lately and pretty much exhausted by the end of the work day, I told myself that I must make a committment to getting in my workouts, and I did that by telling myself I would get up and run before work. Ugh. If you know me you know I am not a morning person. I really have no problem getting up early on a Saturday to do a long run, but during the week before work? Nope. I want none of that. I want to stay in bed until the absolute last possible minute. But I set my alarm clock for 5:00am, and then I set the alarm on my phone with a motivating message.
Since I didnt sleep well at all last night, I was pretty much awake by the time the alarm went off at 5:00am so I didnt even hit the snooze button. And then at 5:05am, my phone showed me this: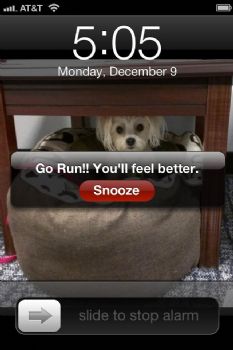 I will admit, it was pretty motivating. So I climbed out of bed, put on my workout clothes (that I had set aside last night) and headed to the gym. It was like 0 degrees out and super cold, but I got to the gym and started my run by 5:45am. I had 3 miles on my plan this morning and that is indeed what I did: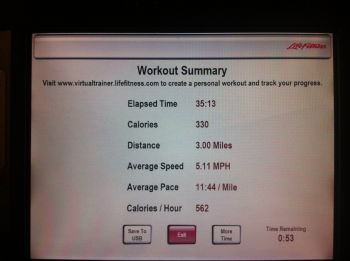 And I did feel better. Considering I might have only gotten 2 hours total of sleep last night, and during my sleep I had some random/ridiculous nightmare that didnt make any kind of sense. There were quite a lot of people at the gym for that early, too. Usually PT doesnt start until around 6:30am. I was definitely rushing a bit when I got home from the gym, so I think I will have to go even earlier, especially as my runs get longer! Yikes. Early mornings. But I will make that committment to myself.
Oh and shhh - I might go to another yoga class tonight.
Oh and also, check out my blog over at
sassycraftyfit.com/?p=19
2
I am linking up with a big blog hop holiday giveaway, and I will he running a giveaway all week for a new yoga mat!