Isn't wonderful that not everything has to be a drama? :)
Today I ran my first indoor race, the inaugural Badgerland Striders Indoor 20K for Toys for Tots. My running partner (AKA Dave, my DH) was not able to join me as he has been having pain in his ankle when running more than 2 miles. We would not have been able to run together for this race anyway because the track is only three lanes wide, so we would have needed to make sure we could pass and be passed.
No headphones were allowed for safety. Yikes - how was I supposed to entertain myself without beautiful scenery or something on the gym TV? That part worked out okay between the pumped in, pumped up music in the arena and playing mental games around running a lap, walking a quarter - and trying to remember how many laps I ran. I was really worried about the counting before hand since I don't have running watch and I was concerned my smart phone's battery would die (it did).
Anyway, the race took place at the former US Olympic Team Speedskating Training Facility just outside Milwaukee, Wisconsin. Due to unexpected ramp closures, iffy signage and my sometimes off sense of direction, I was running late. I got there just before the end of packet pick up time. I'd intended to show y'all goofy pictures of me in front of the building before the race - and even goofier ones of the expected downpouring of snow while I was inside. The snow did fall, but I did not get a photo due to the dead phone. Below are Google Images pictures of the facility and it's former two-lane only track.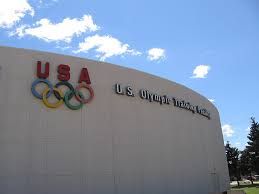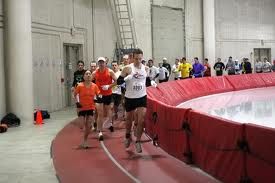 The run went fairly well. It turns out I did lose track of the laps, but I sure was relieved when the announcer said I had only had five laps to go rather than seven.

A surprise was the presence of the mayor of Milwaukee, Tom Barrett, for the race. He ended up finishing half a lap ahead of me. And he clapped for me as I was finishing up. Cool!
I did 45 laps/20K/12.4 miles in about 2h30m30s, which Spark tells me is a 13 min. pace. A good workout indeed!

****************************
The ride home was dicey in the first big snowfall of the season, but I made it fine!
Now I have cheesy cauliflower soup cooking. I used some mashed purple cauliflower we had frozen in the freezer - it sure makes for an odd-colored soup, even with matching amounts of whilte cauliflower. Should be interesting.
December Progress Update:
Journalling/blogging on 10 days - 4 days
Tracking food on 13 days - 4 days
Exercising on 22 days - 5 days