I have Aged Successfully ! We often Dread Aging , but It can actually bring with it our greatest sense of Comfort and Security - written by Jean Shinoda Bolen
It is possible for me to learn to enjoy aging by concentrating on the gains inherent in it rather than the losses. To help me focus on the Positives as I age , I adopt a New Motto each decade. This Decade , my Credo is Fifty is Freedom ( I am well over Fifty ) but still in this Decade - :)
My fifties have brought me the FREEDOM of no longer being chained to "What will they Think" but instead of What I think - What a blessing and a relief ! A wonderful compensation for swaying underarms!
Focusing on the ABUNDANT advantages of aging . I have jotted down some of the joys and freedoms I have gained , learned , chains I have loosened , wounds I have healed over the years .
Today I give Thanks for the benefits of aging :
1) I learned to have a voice
2) I am blessed with many friends and a loving family
3) I am grateful to my Faith
4) I have let go of feeling guilty
5) I learned to deal with rage and that anger can be used for good if directed correctly
6) I learned to pass the Torch
I will NOT go into a lot of this as majority of you know me well enough to know what's going on in regards to my health right now so NO Pete repeat - but there are two I would like to mention #5 the other day I was angry and felt rage and wrote that blog to release my anger and you all responded so kind and with such great advice that the situation in question was resolved and I now consider that individual as another Dear Friend

What a Blessing - I could make a million excuses as to why I was angry perhaps because I have been ill and lack of whatever my body required , perhaps many years of built up anger that needed to be released or perhaps because of grief all different sorts of grief: food grief , really many changes in my food nutrition lately or a loss of too many at one time which brings me to #6 - this year a present to my self was to pass the Torch to someone else in Hospice and learn to trust that was the right decision and that another qualified individual will handle just as well or better and that's OK too , a very difficult decision for me but a must - after many hours speaking with my priest I have chosen to pass the Torch - I will still oversee the Scholarship Fund in my Aunts Name but no longer help with the Transition of Life to Death. A good healthy choice for me!
One more thing - to be Honest lol I ran out of Spark points for Goodies to Thank Everyone for making this week so special and Helping me Age Successfully - Much Love to you all - Karen
Here 's your Candy Cane and he's Dressed lol - my hat is off to all you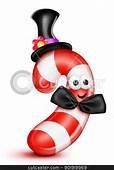 Off to the
tonight !!!