Sunday, December 08, 2013
Waking up after one of my cheat days is like waking up on The Hangover. You take inventory of limbs and major body parts first. Stumble around making sure the house is OK and then you try to piece together the night before. After my blog yesterday we went to buy a Christmas tree. There were very few left at the nursery but I managed to find a good one. Did you know Netflix has a fireplace "movie"? I liked it so much that we fired up the real fireplace which we haven't done in a few years. Actually, this is the coldest it's been in 3-4 years!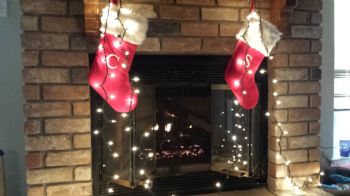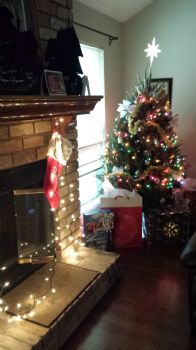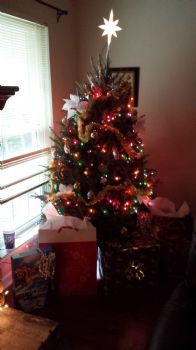 We decorated the outside roof with lights too. My hands were so cold I couldn't feel my fingers for a good 10 minutes even after we went inside. They turned red then white and the skin looked "dried". One of the biggest storms of the year where people are being buried by snow and I'm over here complaining about it being 35 degrees. Well, after that we drove over to the mall because that's where World Market is to get my specialty wine. Oh god I missed this place. They have a wine club and you get discounts. I even managed to find the wine from Thanksgiving lunch!!! And the champagne we had for our wedding.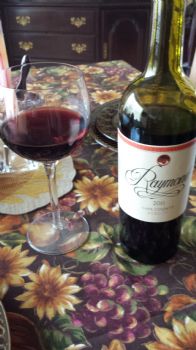 That's the fireplace movie in the background. I actually set up our 42'' TV as my computer monitor to play Sims two weeks ago and I think it'll stay there. I started at 11:30 AM with the champagne. It was delicious. I sipped it while decorating the tree and wrapping presents. After I finished that bottle we ordered pizza. This is where my memory fades to black and I actually don't remember much after 4 PM. The pizza was OK, it wasn't really great and it wasn't awful either. Back in the day when I was a binge eater and I actually mean a binge I would eat until my stomach ran out of room and I would throw up. Then I'd eat again. It really could have gone in that direction because I haven't eaten pizza in 9 months. But I ate 4 slices and my stomach wasn't overly full, in fact I was still kinda hungry. I had skipped lunch and all of my snacks. Getting sick was one of my fears in eating a pizza again and I'm glad my body accepted it. Some things will just trigger it from memory alone. I can't even smell zinfandel wine without gagging. That's a story for another day.
All in all it was a truly awesome day. The hubby got his pizza and we watched Sharknado. HAHA. What a stupid movie. You have to see it. This place gets a hurricane and it's raining sharks. How retarded is that?