Okay....So I know I still haven't wrote up my Turkey Trot yet...I'll get to that...I still need to find my camera cable to transfer over the pictures.....so I will give you a recap of today....
Today started out with last night....I have never been in so intense pain while sleeping from a work out...my squatting muscles would like burn in the middle of the night as I slept in my little curled up ball...it was bad...
So I woke up around 8:30...it was nice to sleep in but I felt like I missed a good chunk of my day...I guess thats what an hour extra of sleep does to you....
I took an extra long hot shower because I knew what I was going to be doing today...
We left around 11:30 and did our pre-outing picture....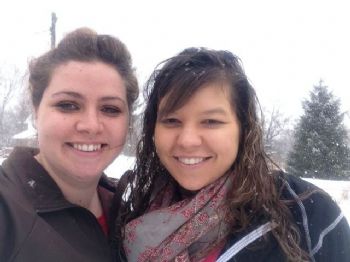 And off we went to the city for our first ever Polar Plunge...
We get there, register, get our sweatshirts and find the bathroom line (way too long, so we held it)...Went back to the car (we're antisocial) and changed into our plunge clothes...and went back and stood in a longer bathroom line....
We then went into the heated tent which was too loud and full of drunk people....(we decided that there should be a drunk plunge and a family plunge, because it wasn't that much fun being stuck next to highly highly intoxicated people.....)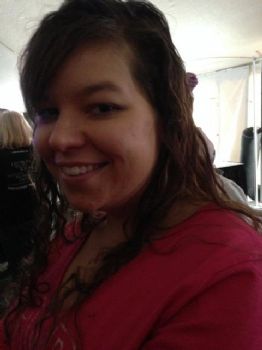 Anyways, it was finally plunge time....and after lots and lots of "this is stupid" and "why are we doing this," we made our way down the beach....the path was tight, so the line kept bottlenecking and it was a long cold wait for the plunge....It probably took ten or so minutes just to make it to the beach...IT WAS COLD....
...I should preface this that there is approximately 3 inches of snow on the ground at my house since last night...it was lake effect snowing the whole way in...it stopped right before we got there...and it was only 25ish degrees outside......
Anyways, the path finally cleared...people were running into the lake....crazy crazy...we speed walked in....there was a layer of leaves...so if you stepped on them, you had to step down half a foot....by the time we hit the water, I was already frozen, frozen, frozen...So the lake...wasn't actually that cold....we planned on going waist height....but changed it to hip height when we got there...my sister wouldn't go past thigh height, so thats where we ended up being in the water...(Like I said, the water was warmer than the air, so it actually felt decently nice, and I think I could've went in the water a tad bit more...but oh well, there is always next year!)
We stopped for a picture...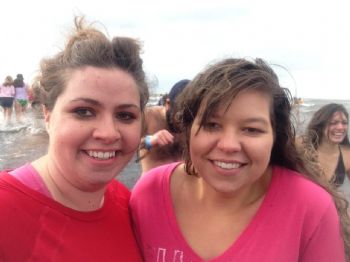 I waded in a little deeper for my own pictures....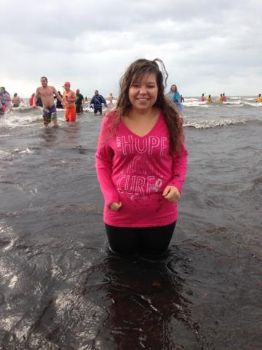 Yes, I know...the hair is out of place...but it was the last thing I was worried about...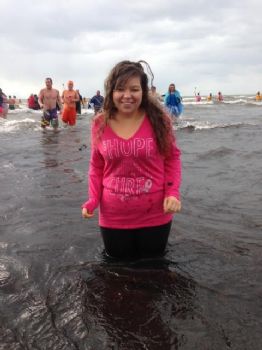 So as we were about to switch, a guy yells out, I want to be in a picture....So, insert random drunk guy...yes, I'm laughing hysterically because I'm freezing and there is a drunk guy touching me....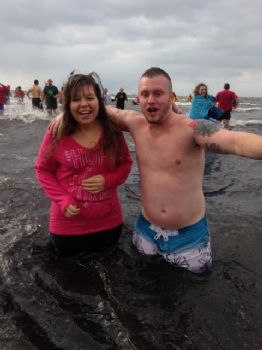 We then switched and I took a few pictures of my sister....drunk guy left before any more pictures.....
We then tried our darnedest to get out of the water....as soon as we hit the ground though, anything that was wet went to instant cold....we walked up the beach, managed to get around a few drunks, and literally ran back to the car (thanking god that we were half marathon runners and could manage to run!) It was so weird, I wasn't actually that cold in the water, but running back, my legs and feet were numb and burning...It was quite painful...I was quite thankful I landed on my feet the right way, because if I hadn't, I think you could've seriously hurt yourself, not being able to feel it.....
Anyways..I got back to the car, got my wet clothes off between the two doors and changed quick in the car....my sister had to make some calls, so she didn't run all the way back with me...by the time she made it back, there were people coming, so I had to stand outside and hold a towel to block the view from people.....
It was cold!
I was surprised that when I got in the car I was so cold....but I think I was more surprised how fast I got warm....We had the heat on, stopped for a hot cocoa, and I was wearing my new sweatshirt, but for being as cold as I usually am, I warmed up so quick....My legs have felt cold to the touch for most of the day, but I haven't been cold...my luck thats the first sign of hypothermia (just kidding!)
Anyways, when we got home...we took a picture in our cute new hoodies, and wore them proudly the rest of the day!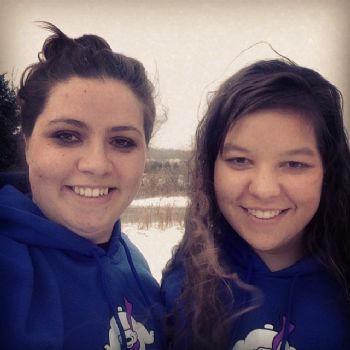 So as my sister and I were talking about doing it again next year, we both agreed we would.....Yes, it was a bucket list item and something I wouldn't ever really think about doing again...but it was fun...it was a good cause...and it is adventurous....and I'm learning I like adventurous...(If only there weren't so many drunk people, I don't drink but yes I know alcohol can make things more fun, but there comes a point when being with drunk people isn't fun)
Oh well, that'll be next years question to ponder....right now, it stands tha I would totally do it again...