Gerard & Violet go to the Vet (#6 - To-do list - SPARKTHESEASON Photo Challenge )
Saturday, December 07, 2013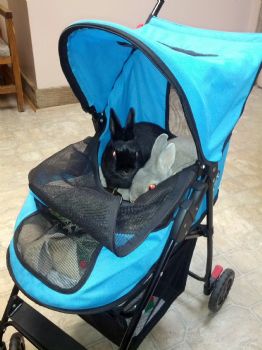 Today I took Gerard and Violet to the vet for their

"well-bunny check-up". This has been on my

"To Do List" for quite some time. Rabbits can take cooler temperatures but are vulnerable to heat, so I always take them in the late fall so they will not get too warm in the car while I stop at the Dansko Outlet afterward. This year I was later than usual.
Gerard will be 7 in April and I think Violet is approximately 9 years old, possibly older. She was a neglect case rescued by the Maryland, Northern Virginia, DC House Rabbit Society. Some lowlifes left her in a hutch to starve when they moved out.
Both Gerard and Violet got a clean bill of health and Dr. Beck remarked as she does every that their ears and bums are very clean, and their weight is very good. A lot of her bunny patients are overweight which can lead to multiple health problems (just like us humans!) . She clipped their nails (a bunny mani/pedi) so they could be mad at her and not me.

Their secret? They follow the Spark Program: plenty of

water,

fresh veggies and

exercise.
They were not too happy about the hour drive each way and gave some serious "bunny butt" when they arrived. For those of you who are not familiar with rabbits, when they turn their backside to you they are communicating that you have offended or displeased them.