Friday, December 06, 2013
Well folks, it's that time again and I'm not talking about the holidays. I don't know about you but I get the most insane cravings that I can't even control. Wild mood swings. Last night I wanted a slice of pizza in my right hand and a burrito in my left and just shove them in my mouth at the same time. Right now I'm listening to Cry Me a River for no reason at all. An hour ago I decided to decorate my house (finally). Christmas tree, stockings on the fireplace, lights on my roof, etc. That's my project for this weekend. That and finishing week 5 of C25K.
I made a fireplace on my cabinets in my office at work: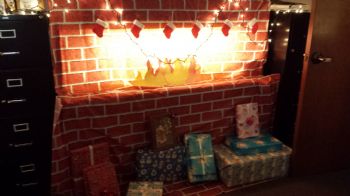 I'm also driving my coworker crazy because she's keeping a tally of how many times I've said 'twinkle' today -- 52.
My weigh in is tomorrow and all I'm hoping for is to be under 137. I hope I don't get that mean counselor again. She sucks.