Happy Friday, y'all!!!
This season sure is busy! Hard to stay focused on the real reason for Christmas when it's so crazy busy... but it's all good and things will work out!
I told my hubby about my plan to not check the scale for more than a month...he thought it sounds good. I told him that my ultimate goal was to NOT GAIN, but to maintain. And if I lose weight...FREAKIN' AWESOME. That's the goal.
It might seem like I've got a "good grip" on this no scale thing...but BELIEVE ME... I am a VERY curious person and it's going to be incredibly painful and difficult to hinder myself from not checking the scales to see "how I'm doing". The cool thing, at the end of this, is I'll get to see how I did after not checking. Which that's a huge vulnerability thing for me because it'll be:
A) Amazing because I didn't gain weight!,
B) UNBELIEVEABLE because I lost weight!
C) Disappointing and annoying because I gained.
It'll be any of those three results, and the anticipation will bother me... but I suppose I just need to do my very best.... exercise CONTROL over my daily meals that are "normal"...and work out four or five days a week! Hopefully *crosses fingers* I'll not gain with all the hard work I will be doing! Here's to hoping!
Back to when I was talking to my hubby:
He told me that I gotta add more cardio if I wanna lose weight and not as much strength training unless I want a little more bulk (which I kinda do). While I don't fully agree with his idea, I do agree with adding a little more cardio little-by-little. Today, I might do 35 minutes...and work my way up to being able to do 45...and so on. I will continue to do my "PushUp Quest" (DAY SIX...SIX PUSHUPS!!!) and I will also continue to do strength training a few times per week. That's the goal! I hope it'll work. I do notice my chest muscles are getting larger...which makes makes me very happy because it lifts the boobs up (TMI?) and they get smaller (HUZZAH!). I've always wanted to be very built...but not disgusting like a body builder. I don't know how attainable or realistic it is for me... but I can dream. :-)
IN OTHER NEWS... I am STILL deeply craving to try Krav Maga (Israeli Street Fighting) and then some Brazilian Jiu-Jitsu (floor/ground fighting). We actually have a Krav Maga center 30 minutes from my house....which is cool! I'd like to try it....MONEY is the issue....and leaving the comfort of my house after being there for about an hour might be annoying. I wish the times were better...or the place was closer. Unless I try the Gracie Barra Brazilian Jiu Jitsu which is a lot closer...but much more strict (with bowing... uniforms...etiquette), and Krav Maga has no etiquette at all. It's dirty, raw, and (excuse my French) ball-busting. WE SHALL SEE...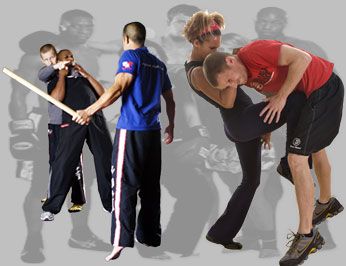 Here's to hoping I can somehow figure out how to make it work...maybe...who knows if I will even like it... but I've had an itching to kick butt recently. I don't know why... maybe it's because I watched that one MMA Match on tv a year ago...and now I wanna kick some butt. I don't know.
ANYWAYS, this will be an interesting weekend! Holiday party on Saturday...and that's my "naughty eating day". I'll have to be more behaved Sunday. It'll be okay. Hope you all are doing lovely and HAVE A GREAT WEEKEND!!! I'll be around. :-)