Friday, December 06, 2013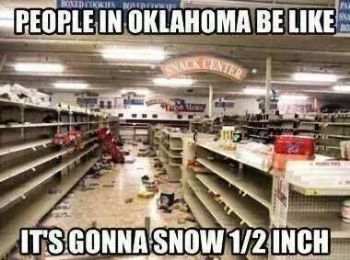 Seriously. It's that bad. But what's worse? After the desperate hordes have ravaged the store shelves of every loaf of bread and every container of milk- because I suppose that's the only thing you can eat during a snowstorm- do you think they all stay home?
Short answer, no. Two or three hours into the worst part of the blizzard, they all decide they have cabin fever and they have to go to the mall. They do this in spite of the fact that they know this will blow over in a day and nobody can drive with a darn in it.
And while watching footage of them all in fender benders and getting stuck in ditches, I will admit to a certain amount of schadenfreude. Yes, I laugh at their pain, exerting their strength to dig out stalled cars in the cold wild outdoors while completing my workout in the warmth of my home. I realize karma will bite me one day for this.
But I'm still having fun.