I finally took the plunge and went to see a specialist about my foot. I wanted to get the opinion from someone who specialized in sports medicine. My left ankle has had issues right toward the end of training for the 70.3 and really got painful after my two recent half marathons. My last half marathon in October I limped the last two miles. Ok... enough is enough.
I was convinced after doing some online research as well as relating to my own experience that it was nothing more than a form of tendonitis from overuse / over training. I was certain all I needed was a few weeks of massage therapy and rest and I will be fine.
Wrong
Specialists are specialists for a reason and this was no exception.
FRONT VIEW OF FEET STANDING TOGETHER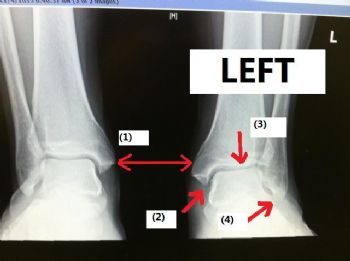 This is why I have been having so many problems with my left ankle.
Area 1 - Left ankle is lower than the right, leg length and posture issues,
Area 2- Compare to right, there are dark patches and some parts are worn down,
Area 3- Check haziness and spacing against the right,
Area 4- Because of an overly stretched tendon on the inside of my foot, it allows the Area 4 to crunch down due to lack of support and causes pain to shoot down the outside of my left ankle.
It should be able to be corrected with orthotics or possibly injections but had I continued to be bullheaded and just pushed on, I could have done some real damage. I have learned a valuable lesson.
I am no dummy and I am very good at listening to my body. This isn't my first rodeo and I am no stranger to the aches and pains that come from training and over-doing it. However well I listen to my body... am I really hearing what it is saying? Had I just listened to Dr Google I might be in really big trouble right now. We are talking about my future mobility. I would really like to be able to still walk when I'm 65.
**Paging Dr Google ** **Paging Dr Google **
This brings up a very important point in the realm of the online world. They brought up a point during my coaching class that runners are notorious for paging "Dr Google" any time they have an issue. Begin with the fact that runners / endurance athletes train themselves to have a higher discomfort tolerance and then mix in some stubbornness, add a dash of adventurism , sprinkle liberally with a self esteem that is enhanced by big numbers on the Garmin ....stir well... and you have a recipe for disaster.
This describes me in a nutshell.
There is a disturbing trend among runners both on Spark and other running forums elsewhere that has been around as long as the forums themselves. This trend is where well meaning and sincere people try to offer advice and fixes concerning other runners aches and pains. While many times they may quite possibly be spot on since many runners have so many common injuries that after a while the symptoms are almost like listening to a broken record.
You may be right 90% of the time but it's the 10% that may cost you dearly in the end.
There really needs to be more awareness among the Spark running community in general about the need to refer to a qualified practitioner rather than tossing out opinions about another members condition however well-intentioned. The tendency toward self diagnosis is a really bad trend and personally would have cost me big time had I persisted.
Every ill cannot be remedied by a foam roller, massage therapy, epsom salts, or "vitamin I" (ibuprofen). Sometimes pain is there for a reason and persistent pain must not be ignored or trained through.
One thing stands out about my visit to the specialist... it's how quickly we got to the root of the problem. If I had gone to the walk in clinic, we would have gone around in circles while we tried the usual pain killers, icing, and referrals.
Going to a specialist in sports medicine was the best choice.
Hopefully I caught this early enough and my hopes of finishing another marathon, or reaching my goals of doing an ultra marathon and the Ironman triathlon has not been sent to the scrap yard.