Thursday, December 05, 2013
It's FREEEEZING, literally. It is 32 degrees at 11:30am as I parked the car and started to walk. There are five interesting walks out of Fisheries Supply near Gas Works Park in Seattle. I chose Y351 University of Washington because today admission to the local museums is free and this walk goes by two I wanted to see.
The route begins on the Burke-Gilman trail. This railroad bed turned biking/walking path is used for recreation and commuting; I am one of many walking toward University of Washington. At 1 1/2 k the route leaves the trail to pass through the retail area of the community. "The Ave" (University Way) has changed since I graduated in the early 80's. Once lined with bookstores, record stores and cafes it is now filled with shops serving every kind of Asian cuisine imaginable.
Turning off The Ave, I stroll down "Greek Row" and entered the University of Washington near the Burke Museum. I spent a lot of time in this museum as an undergraduate, and am pleased that they have continued to develop and update the displays since that time. Not so with the Henry Art Gallery, the next stop on my campus tour. Housed in a gorgeous 1927 building, the curators' focus on the avant guarde conflicts with the beautiful space they have for display.
Now it is time for a trip down memory lane. Making a loop through campus, the trailmaster has incorporated views of interesting architecture and natural beauty.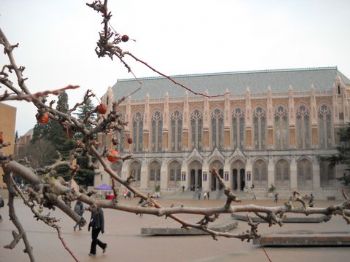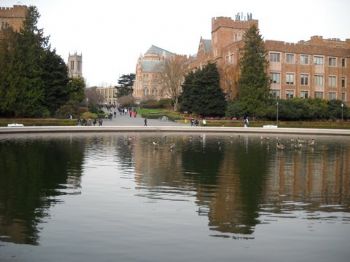 As I rejoin the Burke-Gilman trail I get a view of the sundial. I was surprised that on this cloudy day there was a shadow marking 1:30pm (those side trips have made this a long walk).
The return walk follows the shoreline more closely. I loved the view from a pocket park on north Lake Union. If you look hard you can see the Space Needle in the distance on the right of the propeller.
No doubt, I had a good excuse to stay in and read a book today. But I am glad I braved the cold and took a wonderful walking tour of the University of Washington Campus