For the past 4 Days I have been following SHARON10002's "December To Remember Challenge" Blogs. Each Day she posts a Challenge and if you Choose to, you can do the Challenge and then tell her about it in the Comments. It is a Lot Of Fun, and I am enjoying it. If you haven't seen her Blogs, you should check them out.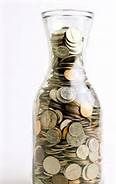 However, I am going to have to at least delay meeting Today's Challenge because of a Prior Commitment. The Challenge is to collect all of your Loose Change in a Jar, and -- Until Further Notice -- pay for whatever you buy with only Paper Money. Add your Change to the Jar.
After I thought about it, I decided to keep my Prior Commitment and tell you about it.
A few years ago on a Saturday Morning in December I pulled in to the Local McDonalds Restaurant and discovered that almost EVERY Vehicle there was a Police Car! Not just City Cops, either. There were Sheriff's, Highway Patrol, K-9 Units, Detectives, and several different Departments represented. Even more shocking was that as they pulled in and parked, there Children getting out of the Cars! Boys and Girls who were apparently VERY Happy to be there; sometimes Groups of two, three or four Children getting out of One Patrol Car. Some of them held hands with the Officers as they went in to the restaurant!

What The Heck?! It didn't take me long to find out what was going on.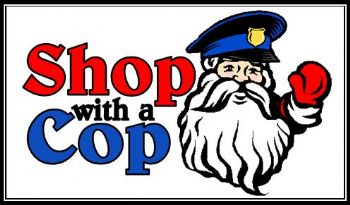 Shop With A Cop is a program that pairs a Child from an "At Risk" Family with a Police Officer who takes them Christmas Shopping after Breakfast at McDonalds. It depends entirely on Donations from the public, and they put out Jars at Local Businesses in November to begin collecting Money for the Shopping Trip.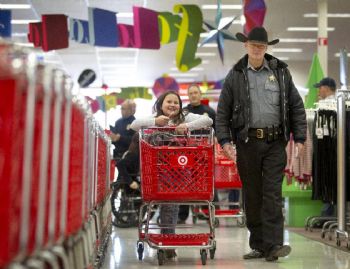 I can't really describe the feeling that overwhelmed me sitting there in the Car that Morning. I don't know who looked Happier -- The Officers or the Children. I vowed that day that every year, I would save My Loose Change and donate as much as possible to that Program.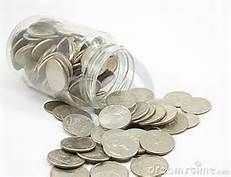 Fortunately, one of the Collection Sites is the 7-11 where Gary and I walk to every evening. It is absolutely EASY to drop the Day's Change in to that Container as we pick up our Coffee and Snacks!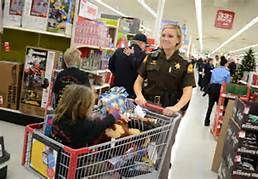 I'm not sure what day the Fund Raiser will be over, but the Day it is, I will begin SHARON10002's Challenge if it is not Too Late.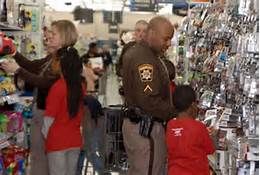 I know Sharon will understand that as much as I am enjoying her Blogs and Challenges, I will have to at least Delay participating in this one.
It may not be a "Pot Of Gold" but your Change DOES Add Up Quickly, and it can make a Huge Difference in Someone's Life. Think about it the next time you pay for your small purchase at the Convenience Store, or when you are doing your Shopping at the local Grocery Store.