SOMEDAY I'LL - We are all surrounded by innumerable opportunities. Possibilities for personal expansion , excitement and happiness abound. Do we take advantage of them or do we crouch fearfully in the shadows saying , " Someday I'll learn to speak up for myself , clear up this relationship , write a book , etc. Sue Patten Thoele
Someday does not honor the present , create a positive future or support self-esteem.
Today I learned to have a voice - one that perhaps I should have learned a long time ago. Because for me its was that behavior that keep me from reaching any of my goals in life and here on spark as well . All that has changed !
Hiding in the mists of someday I'll may appear safe but usually leaves me filled with regret for things left undone or unsaid . Yes today I learned to Speak up for myself - hiding by being someone I was not were the barriers that I hid behind to be safe and to liked by and accepted BY others - TODAY I LOVE MYSELF!
Yesterday I put out a blog that apparently was misunderstood by a few- ok - So Today I will cross my barrier that has keep me safe and sound and in fear of being accepted by the popular consensus ( this is not referring to anyone here by the way - my friends here do know me and understand me - I am grateful) - I really have been trying to be positive in my blogs lately cause everyone has issues in life - you solve ten problems and ten more arrive that 's Life. So I DO NOT write about all the crap that's really going on in my life - its getting old to me ! But this is me and my journey - yesterday I was apologizing to my teams for not being as supportive as I would love to be right now but life has gotten in the way , Once again - it happens to all of us . I did receive email from someone that's not even on any of my teams that stated - " I leave you to your busy life " What ? - I am positive that person did not know what is transpiring in my life right now, my fault for not explaining but I am tired of TALKING ABOUT BEING ILL AND PEOPLE DYING and again I apologize to that person if I offended you it was NOT out of spite or intentional - I JUST WANTED TO ENJOY A BRITHDAY CELEBRATION.
This is my great busy life - in humor - I do NOT want any of you to be jealous - lol - once again last night I was up all night not being able to keep any food in - vomiting and in the bathroom all night - no trip to the ER as I know that they cannot do anything for me right now - I will have to wait until the Procedure is completed next week and the test results are all in from various other test. I am Afraid to EAT right now ! At the same time I had to administer a glycerin patch to my husband that' s DYING !! Its not IF its WHEN right now - leaves me to be slightly irritable that I am losing my best friend in Life - even if I do not agree that he should be living his life like Second Hand Lions right now -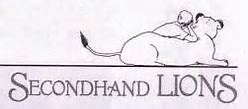 its his choice if he wants to Die with Boots On ! I respect that Decision .
So as of today - I still got out of bed with a smile on my face went for an early swim and then stopped by to visit many people here are spark that are Dear to me and many more that I cannot wait to meet however , I am the type of person that likes to get to know my friends and interact with intelligence opposed to jumping to conclusion in regards to that person situation and that takes time which at this moment Someday does apply for this situation , cause I am only one person taking care of many -as I am sure I am not alone . TODAY I NEED TO TAKE CARE OF MYSELF!
The good news my Team Mates that I was directing that blog too - Have been so awesome and I really appreciate how kind and thoughtful all of you are - and I am still going on with Plans to Celebrate my Birthday this week , cause Lords knows this Second Hand Lion deserves it !
Hugs Karen P.S.
I am not always MEAN , I am not mean at all I am courteous to others so I can give my undivided attention to Friendships -
I HAVE FOUND MY VOICE THAT KEPT ME HIDING IN FEAR !
HUGE NSV VICTORY , yeah for me

Revamping the Pantry and recipes today while working from home (and I thank God my new position changed for me to work home ! ( Prayers do get answered )