I don't think my family is very strong on traditions... Since I moved to Ontario, the girls and I have made gingerbread house (thanks to a colleague who had this as his tradition and invited us to do it with them as a family event!) Last year, I did two with my daughters and nieces... and of course we took a picture - isn't it a tradition to take family pictures during the holidays?
I like this one.. I think I might do a gingerbread house with Maggie next weekend - just to do something together, and keep my new tradition alive.
For years, we used to celebrate the New Year at my grandparents - I never missed one. For the occasion, we would have dinner together, exchange a few gifts and play cards! Noting fancy, but it was nice to be together. And we took family pictures!
I guess this was my family tradition. This picture was taken in 2004 = The last time we were all together. I look so different!
When I think of tradition now, I think of Thanksgiving. In my family we did not celebrate it but my hubby always like having a big meal. And, the menu is not too flexible! Maggie and I went to the farmer market to pick a few things. This year, we set the table with my grandma's tablecloth and her fancy dishes. I use it only for special occasions! I love the pumpkin fudge cupcakes (Maggie was very proud...)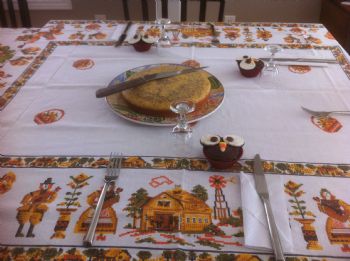 The x-mas stocking and decorating the tree are also a MUST - unfortunately, I won't be able to post the picture tonight because I took the picture with my iphone and I dropped it in water as I was washing the dishes!
Finally, last year we participated as a family in the Resolution Run - a 5K for fun on Dec 31... I am hoping to repeat the experience this year and make it a tradition!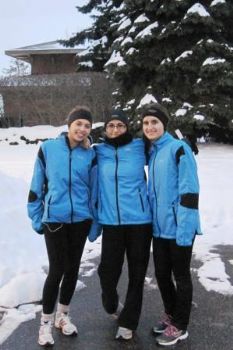 Tomorrow Topic: Morning!
****
Goals progress
Food - tracked and on track!
Water = check!
Exercise: 4X 1k Run (sprint intervals - pace: 4'20"/km) and ST between
Went for a walk with Maggie
Stretch and no binge! now, time for bed...